Suspect in SF Market Street standoff remains hospitalized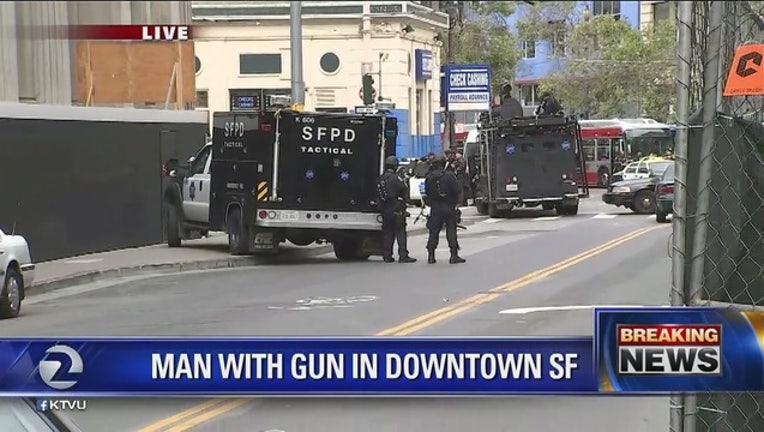 SAN FRANCISCO (BCN) - A suspect detained after a tense standoff on Market Street Wednesday afternoon remains in the hospital and has not yet been booked or charged, San Francisco police said today.
   
The standoff occurred around 2:12 p.m. in the area of Jones and McAllister streets just off of Market Street when officers responded to a possible armed suspect who may have been in an altered mental state, according to police.
   
Officers ordered him to stop and show his hands but the man allegedly failed to comply, prompting police to fire a beanbag round at him.
   
The suspect then remained on the ground for several hours, surrounded and held at gunpoint by police including members of the department's SWAT team, while hostage/crisis negotiators attempted to negotiate with him, according to police.
   
Police said they used additional "flash bang" stun grenades and beanbag rounds before taking the suspect into custody more than three hours later.
   
Police today said the suspect remained in the hospital but that his injuries were not considered life threatening. The suspect's identity was not released.
   
The standoff shut down multiple streets in the area around 7th and
Market streets and prompted the re-routing of multiple Municipal Railway bus routes.
   
Mayor Ed Lee issued a statement Wednesday night praising police for the peaceful resolution to the standoff and acting Police Chief Toney Chaplin for his "judgment and prudence."
   
"Using de-escalation tactics, patience and restraint, San Francisco police officers put the sanctity of life at the center of this confrontation and resolved the situation safely," Lee said.