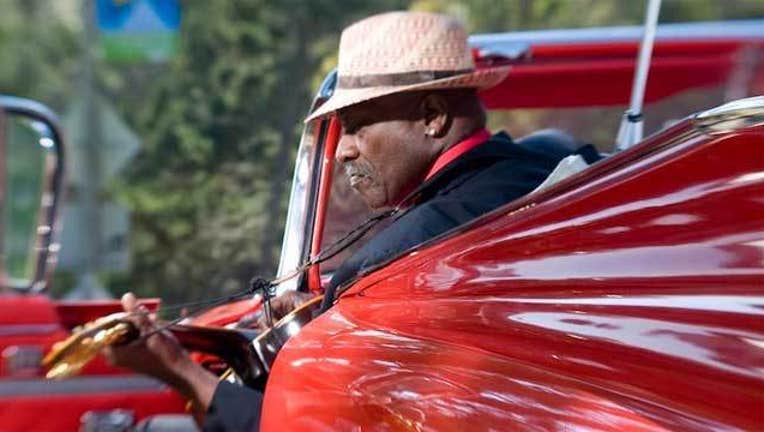 article
For over 50 years, the legendary Taj Mahal (born Henry Saint Clair Fredericks in Harlem) has been delighted fans with his effortless and eclectic blending of cross-cultural musical styles. He is a master of finger-picking country blues, bluegrass banjo, slide guitar, R&B, reggae, music of Hawaii, the Caribbean and beyond.
What ties the musician's vast catalog together is his abiding interest in musical discovery, particularly in tracing many American musical forms back to their roots in Africa and Europe. Following his passion, Taj has spent time in West Africa, Europe, the South Pacific, Australia, South America, and all over the continental U.S. His music reflects his global perspective, incorporating sounds from everywhere he's lived and traveled.
From his earliest recording in the LA-based band Rising Sons (which he founded in 1964 with fellow guitarist and future roots legend Ry Cooder) through his voluminous solo discography, Taj Mahal has explored practically every facet of American music. A self-taught musician, Taj plays more than 20 instruments, including the National Steel and Dobro guitars. 
With his unmistakable voice ranging from gruff and gravelly to smooth and sultry, Taj Mahal's unique delivery is part of what has made him a national treasure. One of the most prominent figures in late 20th century blues, the singer and multi-instrumentalist played an enormous role in revitalizing and preserving traditional acoustic blues.
2008 was a big year for the talented musician. In addition to embarking on a 40th Anniversary tour with his longtime trio featuring drummer Kester Smith and bassist Bill Rich to celebrate his four decades as a recording artist (his eponymous debut was released by Columbia Records in 1968), Taj also issued his first collection of new studio material in five years with the Grammy nominated Maestro. The acclaimed album featured guest appearances from an eclectic list of guests including Beninese singer Angelique Kidjo, reggae great Ziggy Marley, Latin-rock heroes Los Lobos and blues revivalist Ben Harper. The musician comes to the SFJAZZ Center with his trio for four sold-out performances this weekend.
Taj Mahal Trio
Thursday-Sunday, Feb. 26-March 1, 7 p.m. $25-$70
SFJAZZ Center's Miner Auditorium