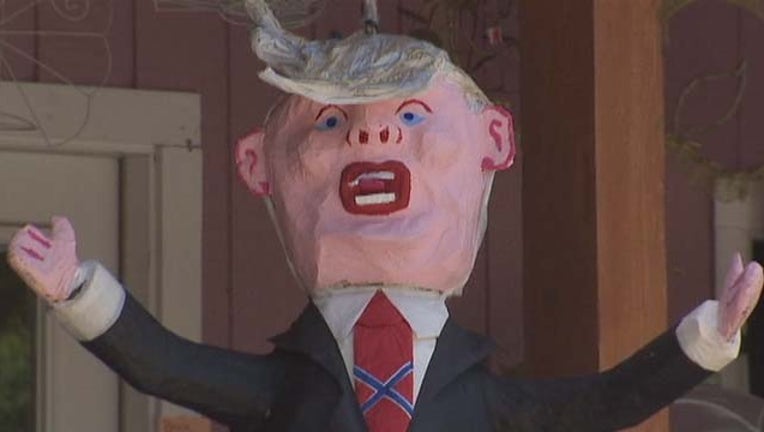 article
AUSTIN, Texas (My Fox Austin) -- Sergio and Monica Lejarazu spend much of their time hovering over their kitchen table. "It's an art craft, it's takes about 10 hours a day," says Sergio of his custom pinatas. No feat is too big or too small for Austin couple. "As long as someone orders something we have to make it."

Lately, they've been fielding orders for Donald Trump. "It's paper mâché. We see his face on TV and we copy it by hand."
Lejarazu came to America from Mexico City more than two decades ago. "It's sad that someone tries to make fame and gain in politics and power by insulting a community and a country." And because of that, he says he's enjoying his chance to take a swing at the businessman.

"You cannot believe somebody like Donald Trump," he says dismissing the controversial comments, "he doesn't give that value to me."

Trump's side swept hair and signature scowl are immortalized in the seventy-five dollar creation. Once they posted their first custom order on their Jumpolin Facebook page, the requests started coming in from across Texas and are now shipping to as far away as Portland.

"People are still trying to put their jokes and their imagination," That includes a foot print on Mr. Trump's backside. "Some people want to make him look like very much confederate flag guy. Sme people want the swastika (the Nazi symbol) on the side, we aren't going to do that."

But what they are doing, is making sure the billionaire is permanently branded with a "made in Mexico sticker."

"It's not nice or positive what he's talking about, day by day he always comes with something else," says Julia Hernandez. She owns the East Austin shop where customers pick up their orders. "I've been in business here for 12 years and this has been making people stop."

Like the Lejarazu's, Hernandez hails from Mexico. She is pleased to see that Trump's been a boon for business. "I think Donald Trump instead of hurting us is actually helping us." And she adds, since they can't tell Trump what they think of him in person, they are happy to take a hit on the pinata, "take a lot of your stress and anger in a way because it's not nice or positive what he's talking about."

Though Hernandez's Julia's Craft is seeing a spike, Trump isn't going to make the Lejarazu's rich, "It's handmade and we don't really think we're going to make big business on these." Unless the former Apprentice star gets the G.O.P. nomination. "When the election is coming they want candidates."

In that case, he says they'll be ready "We have a plan b. If have a big order we're going to import from Mexico."