Temperatures soar as stormy weather moves on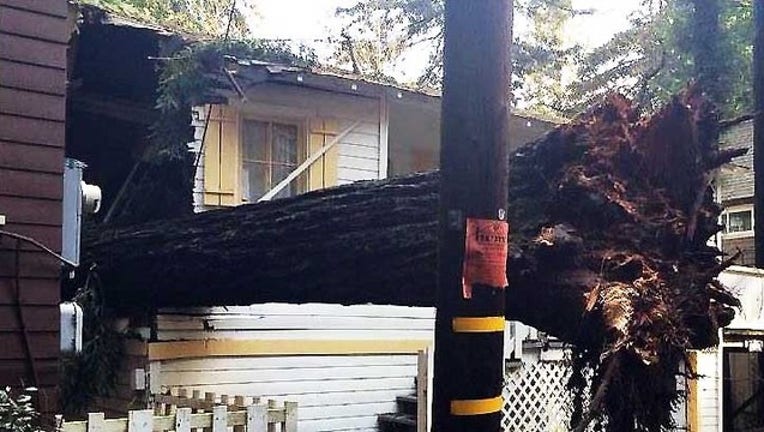 article
SAN FRANCISCO (KTVU and Wires) – A pair of winter storms over the weekend ended San Francisco's historic run of dry weather giving way to a week of rising temperatures capped by 75-degree readings predicted for some regions in the Bay Area on Saturday, forecasters predicted Monday.
Meanwhile near Hidden Valley Road in Guerneville, a homeowner was awaiting crews to remove a massive redwood tree that had smashed through the house on Friday. The damage was so extensive that the home had been rad tagged.
The storms brought some relief to the region that has been ravaged by an extreme drought for months.
Rain fell in San Francisco for the first time in about six weeks, including the city's first dry January since weather records were first recorded back in the Gold Rush days.
The weekend storms dumped 1.60 inches of rain in the city and when combined with an extremely wet December gave San Francisco 15.92 inches of rain since Oct. 1 which is 109 percent of normal.
San Jose received 1.67 inches, running its total since Oct. 1 to 11.58 inches or 134 percent of normal.
Middetown led the local areas in rain totals for the stormy weekend with 8.48 inches while Cazadero had 7.15, Forestville 5.75 inches, Petaluma 3.10 and Half Moon Bay 2.77 inches.
Early reports from several reservoirs revealed the rains had slightly eased the current extremely drought conditions.
Levels at the Lexington Reservoir in the Santa Cruz Mountain foothills increased from 32 percent of normal to 39 percent.
Folsom Lake went from 46 to 47 percent and Lake Shasta jumped to 47 percent of normal from 45 percent.
In the Bay Area, wind gusts topping 45 miles per hour Sunday tripped about 50 flights cancellations in and out of San Francisco International Airport and delayed others by 30 minutes or more.
"Coming in it was rough! We hit some turbulence and I feel like we had to get rerouted," said Nina Kokayeff, who flew to San Francisco from Chicago. "Yes, the Windy City, and it's actually windier here!"
It was so windy, a large tree uprooted and fell on top of a house on North Railroad Avenue in San Mateo.
"I've gone to three of these today," said Steve Willett of Timberline tree service.
At Ocean Beach, the rain and wind whipped the waves into a froth.
"I'm guessing it's gotta be 40-plus (mile per hour) winds and some really heavy rain," Jim Fanning said as he looked out across the ocean. "Well, I certainly came out here intentionally to get a full blast of Mother Nature!"
Fanning had his feet planted in the sand, but said he'd rather it was snow.
"I gotta say it probably has something to do with growing up in Buffalo, New York," he said. "I don't get my extremes of weather anymore, so every once in a while, she shows up beautifully here."
The gusts also toppled trees and downed power lines.
In the Santa Cruz Mountains, transportation officials said State Highway 9 just south of state Highway 35 would be closed until Tuesday evening as crews worked to remove a down tree and repair downed power lines.
In Vallejo, a neighborhood near Baxter and Burnham was in the dark early Monday after a toppling tree snapped a power pole and downed lines.
"We were watching the Grammys and all of a sudden a pop, crackle and the lights went out," Richard Bachman told KTVU.
PG&E said it expected crews would be able to restore power by noon.