Tens of thousands in cash allegedly stolen from salon owner's car
OAKLAND - A salon owner says she lost "tens of thousands of dollars in cash" when a thief broke into her car in Oakland. 
A surveillance video shows a man that the salon owner believes broke into her Infiniti as she got coffee from a Starbucks in the Montclair village neighborhood earlier this month.
A man who exited a white Jaguar took Franklin's backpack containing nearly $40,000, an iPad, a laptop, and hair extensions.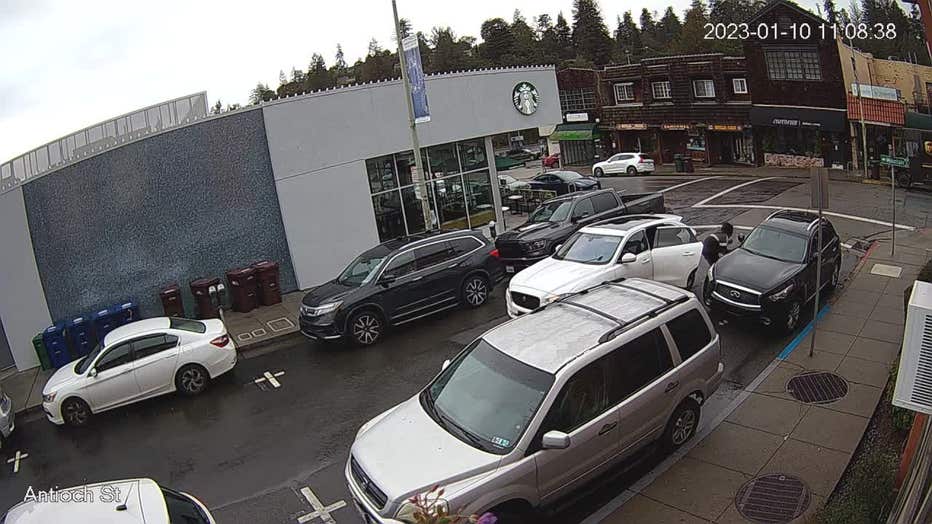 A salon owner says that she lost nearly $40,000 when a thief seen in this picture broke into her car and stole a backpack.  (KTVU FOX 2)
Franklin said she was going to deposit the money at a bank. She feared carrying the backpack into the coffee shop because that might make her a target to thieves, she said. 
SEE ALSO: Car flips on Oakland train tracks
Three years ago, a man was run over and killed while trying to catch a thief who'd taken his laptop at the same Starbucks. Franklin said her memory of that case affected her decision to leave the bag in her car.
"I thought to take my bag out of the car with me. I honestly did. but it was raining really bad that day, and again what happened with him [the man killed in 2019] made me feel like 'Okay, I'll be seen with this big backpack, that's a lot more of a target. Someone will hit me, because, you know, you hear about things happening in the area.'"
Another video shows Franklin falling to the sidewalk when she discovers the theft.
Her salon is a cash-based business, she says. 
She's also upset by the loss of journals and production information that were taken.