Tesla unveils 'Dog Mode' and new feature to minimize car break-ins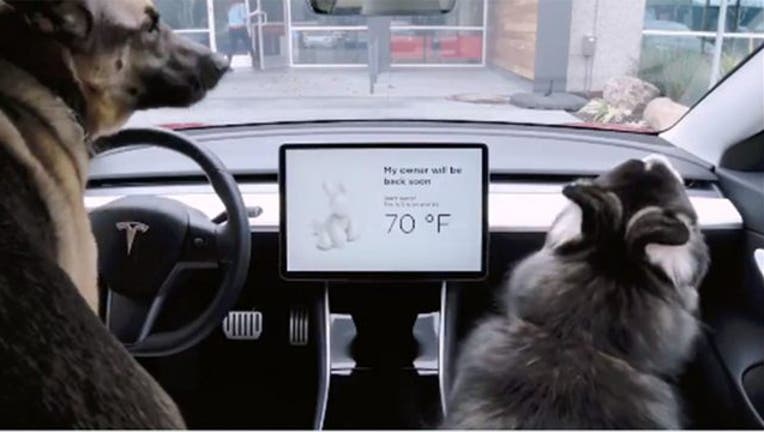 article
(KTVU) - Tesla has added two new features aimed at criminals and pet owners. The first is designed to minimize car breaks ins and the other is about safely leaving your pets unattended in the car. 
The electric car maker announced their highly anticipated "Dog Mode" on Thursday. The feature's production will "start out slow," according to Tesla CEO Elon Musk. But when the "request latest update" appears, Tesla owners will be able to set a custom cabin temperature if they need to leave their pet unattended. 
But how will witnesses know pets are safe?
The vehicle's infotainment, or giant dashboard monitor, displays an image that notifies concerned observers that the pet's owner will be back soon and the car is set to an appropriate temperature.
The note is designed to deter would be good Samaritans from smashing the glass to release the animal. And speaking of smashing a window, Tesla also unveiled its "Sentry Mode."
This feature uses cameras mounted to the vehicle to monitor if anyone gets too close. When a minimal threat is suspected, like if someone is leaning on the car, it displays a message that they're being watched and recorded. And if someone were to ignore this message and attempt to break in, a full alarm goes off that turns up the lights and the radio in attempt to draw attention and scare them off. 
This feature was rolled out Thursday on U.S. Model 3 vehicles, followed by Model S and Model X vehicles that were built after August 2017.