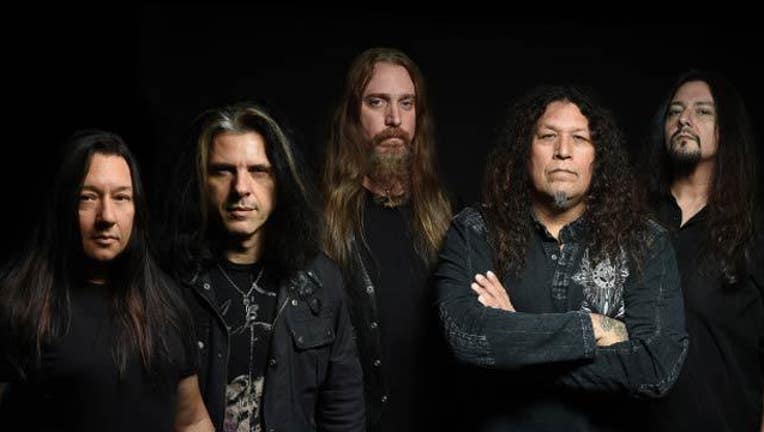 article
Two of the most powerful bands to emerge from the Bay Area's fruitful metal scene during the '80s, Testament and Exodus kick off their first ever tour together with a hometown show at the Regency Ballroom Wednesday night.
While the band's crushing 1985 debut Bonded By Blood was delayed by label troubles, it quickly became a standard by which future thrash releases would be measured. Though sonically not as refined as Metallica's first effort, songs like "Metal Command" and "A Lesson in Violence" showcased the breakneck tempos and tandem/dueling guitar solos that became part of the thrash-metal template.
The departure of original Exodus lead singer Paul Baloff after the album came out could have derailed the band, but the addition of Steve "Zetro" Souza -- who was the vocalist for Testament precursor Legacy -- ushered in the most popular line-up of the band for such classic efforts as Pleasures of the Flesh and Fabulous Disaster.
The move to Exodus would lead to the seminal line-up of Testament coming together after the addition of fleet-fingered guitarist Alex Skolnick and Souza suggested Chuck Billy take his place. The band's 1987 debut The Legacy established the quintet as a force to be reckoned with on the international metal scene. Their follow-up efforts The New Order in 1988 and the next year's Practice What You Preach would further refine their sophisticated high-octane sound and progressively more political lyrics.
Both bands would face challenges as grunge rose to become the dominant form of heavy music as Exodus and Testament soldiered through line-up shifts and hiatuses. The historic 2001 Thrash of the Titans benefit for Billy and Death founder Chuck Schuldiner (both men were undergoing cancer treatment at the time) brought together a who's who of thrash metal greats from the Bay Area and elsewhere for a full day of music.
The concert served as a catalyst, spurring the reunion of the potent early line-up of Testament as well as the reformation of Exodus with Souza and Death Angel. All three seminal thrash acts have continued to put out vital new albums ever since. Though Souza and Exodus had an acrimonious parting of the ways after releasing their 2004 album Tempo of the Damned that led to Exodus recording and touring extensively with replacement Rob Dukes, last year the band announced that the singer was returning to the group.
Testament and Exodus have teamed up to embark on the Dark Roots of Thrash II Tour that will feature headliner Testament playing its first to classic albums The Legacy and New Order in their entirety along with other early favorites from 1989's Practice What You Preach. Texas-based band Shattered Sun opens the show.

Testament and Exodus
Wednesday, April1, 7 p.m. $29.99-$32
Regency Ballroom