The Latest: Brie reflects on Time's Up influence at Globes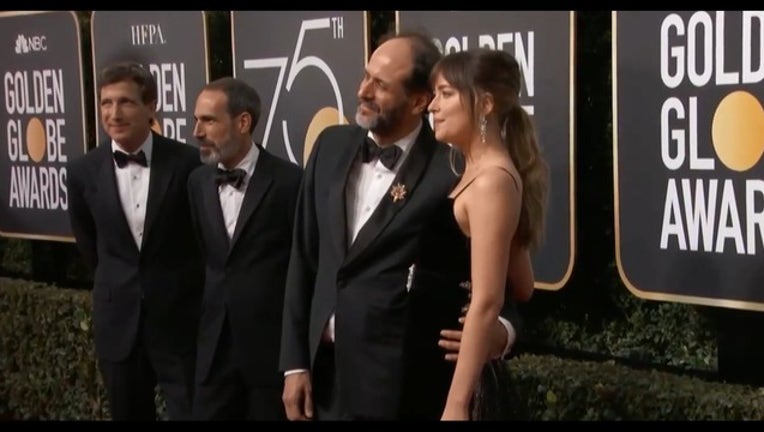 article
BEVERLY HILLS, Calif. (AP) - The Latest on the presentation of the 75th annual Golden Globe Awards from the Beverly Hilton Hotel in Beverly Hills, California (all times local):
3:25 p.m.
Alison Brie says that the Time's Up initiative has made her realize how powerful women can be when they all stand together. 
The actress is nominated for a Golden Globe for her work in the Netflix wrestling show "GLOW." Brie, who also appears in the Golden Globe nominated films "The Post" and "The Disaster Artist," wore a dramatic strapless black dress with a sweetheart neckline to show solidarity with Time's Up Sunday.
Brie says she thinks change will come when more women are in power at the top. She says a lot more listening needs to happen across all industries.
 
-- Lindsey Bahr ((at)ldbahr) on the Golden Globes red carpet.
 ------
3:15 p.m.
"Get Out" star Daniel Kaluuya says that the fact that the film is still in the conversation is "mind-boggling."
He noted Sunday on the Golden Globes red carpet that the film came out almost a year ago in February. 
Kaluuya wore a black tux with a Time's Up pin on his lapel. He is nominated for best actor in a musical or comedy, and "Get Out" is up for best picture in the same category.
He says he feels privileged to stand by the women fighting against the unnecessary evils that are happening in the industry.
-- Lindsey Bahr ((at)ldbahr) on the Golden Globes red carpet.
------
2:55 p.m.
Alfred Molina says he feels terrible for his "Frida" co-star Salma Hayek's experiences with Harvey Weinstein. Hayek detailed sexual harassment from Weinstein during the production of "Frida" in a New York Times essay in December. 
Speaking Sunday on the Golden Globes red carpet, Molina says that Hayek is not one to exaggerate and is a serious, forthright woman and he was struck by her bravery. He says it's saddening and heartbreaking that she had to carry that weight for so long.
Sporting all black, down to his tie and his shirt, the "Feud" star said that it was a very small gesture of solidarity but hoped that out of small gestures comes big ones.
Chris Sullivan of "This Is Us" did not wear an all-black outfit, but painted his fingernails black for Sunday's ceremony.
-- Lindsey Bahr ((at)ldbahr) on the Golden Globes red carpet.
------
2:40 p.m.
The highly anticipated wear-black protest at the Golden Globes got off to an early start Sunday as soon as the red carpet opened, including Michelle Williams in an embellished off-the-shoulder look and "Me Too" founder Tarana Burke at her side.
Turning the Globes dark on the fashion front had been anticipated for days after a call for massive reform following the downfall of movie mogul Harvey Weinstein and numerous others in Hollywood, media, fashion, tech, publishing and other industries. The new initiative Time's Up, backed by more than 300 women in Hollywood, doled out pins intended for those who might already have locked in more colorful looks.
Allison Williams provided a pop of orange and silver on the bodice of her black column gown.
Not everybody supports the protest. Rose McGowan, who has accused Weinstein of rape, has loudly and persistently called the effort an empty gesture.
------
2:30 p.m.
Michelle Williams has arrived at the Golden Globes with the first of several gender and racial activists who are accompanying actresses to Sunday's awards gala.
Williams has brought (hash)MeToo founder Tarana Burke to the awards show to help highlight gender inequality. Seven other actresses, including Emma Stone and Meryl Streep, are bringing activists to the ceremony, which is the first major awards show since the sexual misconduct scandal roiled Hollywood.
Both Williams and Burke wore black dresses. Many actresses are planning to wear black to Sunday's ceremony to show solidarity for the victims of sexual misconduct.
-- Andrew Dalton ((at)andyjamesdalton) in the fan bleachers outside the Golden Globes.
------
2 p.m.
Al Roker and Carson Daly have drawn quite the crowd of spectators as they made their way past the champagne and photographers on the red carpet and into the Golden Globes ballroom, trailed by a crew of cameras and lights.
Roker tweeted earlier that he's never seen security like this for the Globes. He said there was checkpoint after checkpoint and that they were not kidding around. 
Elsewhere on the red carpet, Mario Lopez filmed an early segment and other TV reporters fanned themselves down amid the rising temperatures.
-- Lindsey Bahr ((at)ldbahr) on the Golden Globes red carpet.