Thousands gather at SF's Civic Center to demand a ceasefire in Gaza
SAN FRANCISCO - Thousands of demonstrators with signs and banners gathered in Civic Center Plaza in front of San Francisco City Hall on Saturday to demand a ceasefire in Gaza.   
The crowd, echoing protests Saturday in New York, Washington, and other U.S. cities, protested Israel's retaliation for assaults by Hamas militants. The Israeli action has killed and injured large numbers of Palestinian civilians.   
Organizers said the San Francisco crowd numbered more than 50,000 and was believed to be the largest pro-Palestine march in Bay Area history.   
Sgt. Kathryn Winters, a spokeswoman for the San Francisco Police Department, said in an email, "The crowd may have been as large as 15-18k, not an official estimate."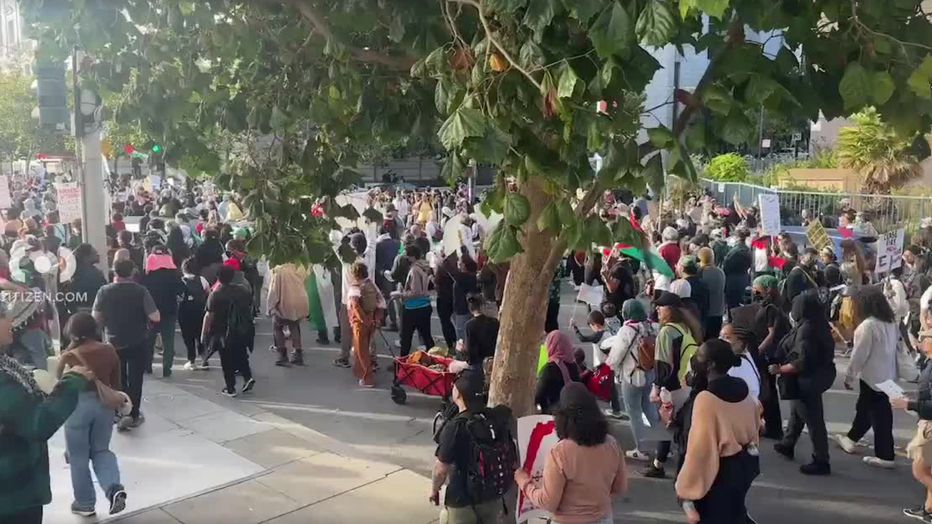 Pro-Palestine demonstrators at San Francisco's Civic Center.
"This is a historic moment: millions are pouring out across the world to demand an end to Israel's crimes against the Palestinian people," said Lara Kiswani, executive director of the Arab Resource and Organizing Center in San Francisco, in a statement. "From the Bay Area to Washington, D.C., we are demanding an immediate ceasefire in Gaza, and an immediate end to US aid to Israel."   
Protest organizers said more than 9,000 Palestinians in Gaza have been killed by the Israeli military in the last three weeks, including at least 4,000 children.
The conflict was ignited by an Oct. 7 attack by Hamas fighters that killed more than 1,400 Israelis, including children, officials said.