Three Bay Area counties now in the 'orange' statewide coronavirus tier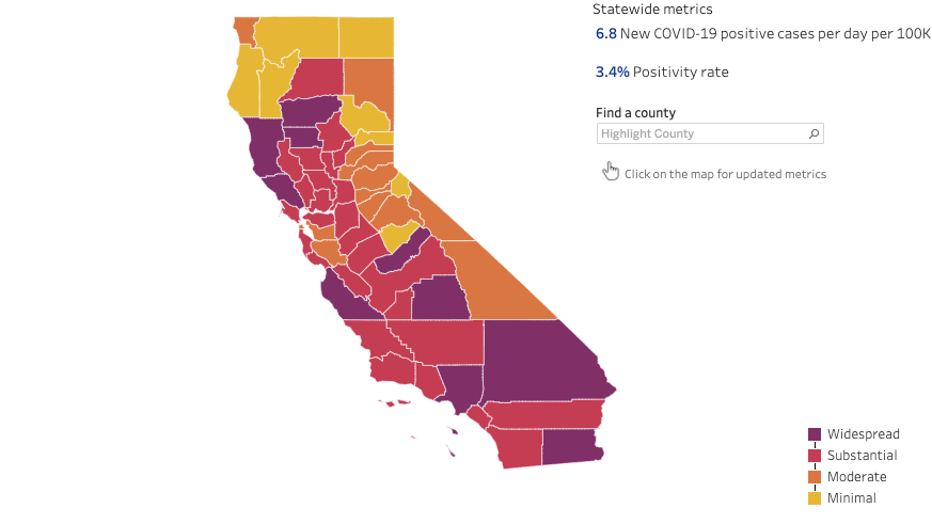 OAKLAND, Calif. - On Tuesday, state health officials announced both Alameda and Santa Clara counties have moved into the less restrictive orange tier for coronavirus risk. Both counties are eligible to resume more business indoors. Only Santa Clara County is permitting indoor dining to start.
Even though both counties qualify for orange tier status, with positivity rate and average daily case count low, Santa Clara County is permitting indoor dining at 25 percent capacity starting on Wednesday. Restaurants in Alameda County will have to wait a few more weeks.
The owner of Mezcal Restaurant in downtown San Jose is configuring his indoor table setup complete with partitions. He's also preparing complimentary bags for customers to put their masks in and cleaning the restaurant. Wednesday will be the first time in seven months that patrons will be allowed inside.
"I think what we want is people to start getting the sense we are becoming more normal now," said Adolpho Gomez, owner of Mezcal Restaurant.
On Tuesday, California's health secretary announced both Alameda and Santa Clara counties met the criteria to move into the orange tier or moderate risk level for coronavirus transmission.
"We are the largest county in the entire state to move into the orange tier," said Santa Clara County Health Officer Dr. Sara Cody.
While the state allows for greater capacity, starting Wednesday Santa Clara County is allowing indoor dining and indoor gatherings, movie theaters, gyms, family entertainment centers and places of worship at 25 percent capacity or no more than 100 people.
Up to 200 people will be allowed for outdoor gatherings. All businesses must follow proper protocols.
"We will be out there with our enforcement teams," said Santa Clara County Counsel James Williams. "We will be ensuring that there's compliance with that local requirement and with the local directives."
In neighboring Alameda County, the health officer there also anticipated the move to orange.
"That's good," said Alameda County Interim Health Officer Dr. Nicholas Moss. "It's a sign that the sacrifices that residents have been making and the things they are doing in their lives are really working."
Alameda County plans to resume indoor dining, worship services, theaters on the week of October 26 at 25 percent capacity. In-class elementary instruction can now resume and playgrounds are set to open on Friday. Dr. Moss calling it a measured approach.
"We know from our experience in the Spring, not just in the county but across California, that opening too much too fast can result in a surge of cases," said Dr. Moss.
He adds, counties are different and their pace may differ by a few days or weeks. He doesn't want to move backward and reclose.
Dr. Moss said another factor when deciding reopening plans is the approaching flu season. He called it an added burden for hospital and nursing homes, concerned it may be a difficult winter.
The latest statistics:
Alameda County's positive rate is 1.5% and its health equity metric is 3.2%. 
Santa Clara County's positivity rate is 1.7% and its health equity metric is 3.8%. 
San Francisco was the first county to make it to this tier, and The City's positivity rate is 1% and its health equity metric is 1.8%.