Tied Contra Costa Co. irrigation district board race decided by roll of die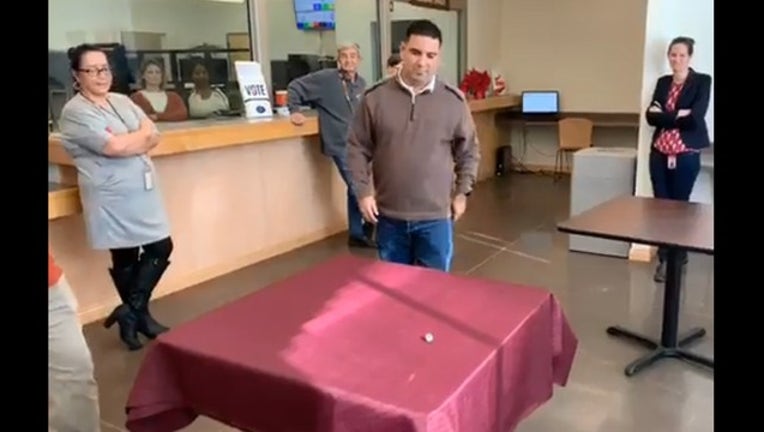 article
(BCN) - It was literally with the roll of the dice -- several rolls, actually - that decided the election for a spot on the Byron Bethany Irrigation District board of directors on Friday.
With both incumbent Larry Enos Jr. and challenger Milan "Pete" Petrovich having tallied 51 votes following last week's certification of vote totals, Contra Costa County Elections Department personnel were left with getting the two candidates together and, in keeping with state election law, breaking the tie "by lot" in a method of election officials' choosing. It was a first for both the county and for the irrigation district, and was streamed live Friday by the county elections office.
In this case, "by lot" meant by throwing a 20-sided die such as used in the game "Dungeons and Dragons." Enos and Petrovich were each asked to toss the die three times; the highest total score won.
On a small table with a maroon-colored cloth cover, Enos rolled 15, 16 and 20, for a score of 51; Petrovich rolled 16, 16 and 13 for a score of 45. With that, in a gathering that lasted a total of about five minutes, Enos had his second full four-year board term.
Petrovich is a onetime vice mayor of Brentwood.
The Byron-Bethany Irrigation District  is a 47-square-mile special district serving parts of Alameda, Contra Costa and San Joaquin Counties south of the unincorporated community of Byron, near where the three counties' boundaries intersect. It serves 160 agricultural customers and more than 20,000 residents of the Mountain House community in San Joaquin County.