Top-seed Houston hosts Warriors to start conference finals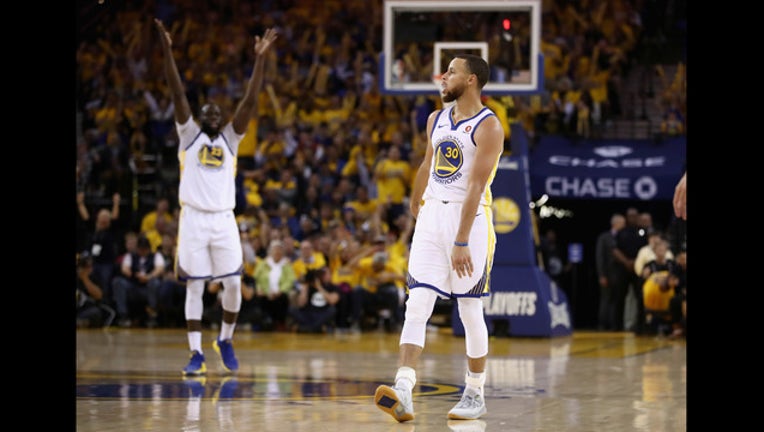 article
HOUSTON (AP) - The Golden State Warriors are in the unfamiliar position of opening on the road as they prepare for Game 1 of the Western Conference finals with the top-seeded Rockets in Houston on Monday night in the series that many have been waiting for all season. 
It's the first time the No. 2 Warriors have been in a playoff series without home-court advantage since 2014 when they lost to the Los Angeles Clippers 4-3 in the opening round. 
For a team that has matched the Chicago Bulls' NBA record with 15 straight home playoff victories, the feeling is a bit unsettling.
"It's different," coach Steve Kerr said. "I think our guys, they are taking the challenge and they're embracing it. They feel like, `OK, we don't have home court for the first time,' but we seem to be at our best when we are threatened. That's been kind of the M.O. of this team. We're definitely threatened. We're on the road for Game 1, we've never felt that."
The Rockets, who earned the top seed for the first time in franchise history by winning 65 games in the regular season, are certainly happy to be opening at home, but aren't sure if it's that much of an advantage in this series.
"It's better to have it than not ... it's important but they've shown they can win away from home, we can win away from home," coach Mike D'Antoni said. 
"This might be a series where you lose one or two and then win four in a row -- either side. Because they're capable of it."
This will be the third playoff meeting between these two teams in the past four years, with the Warriors winning both previous meetings. They downed the Rockets 4-1 in 2015 in Houston's previous trip to the conference finals and ousted the team from the playoffs in the first round in 2016. 
The defending champion Warriors are looking to reach the NBA Finals for the fourth straight year. For the Rockets, a win in this series would put them in the Finals for the first since 1995 when they won the second of their back-to-back titles. 
D'Antoni was asked if he thinks the Warriors have seen a team as talented and dangerous as the Rockets are this season.
"I hope not," he said. "We did win 65. They're the ones always winning and getting home-court advantage so hopefully we gained a little ground."
However, he knows that his team is the perceived underdog in this series despite nabbing the top seed because of what the Warriors have done over the past few years.
"These guys are champions for a reason and they've shown on the big stage that they can perform at a very, very, very high level -- as good as anybody ever," he said. "And we haven't shown that yet and that's the doubt in most people's minds, until you show it they don't know ... so we've just got to beat them and show them we can do it."   
Some things to know about the Warriors-Rockets series. 
CURRY FACTOR
Stephen Curry certainly feels back to his spot-on self with the swagger that goes with those dazzling drives and way-back 3-pointers.
Curry returned from nearly six months sidelined with a sprained left knee to play the final four games of a five-game semifinal series against New Orleans. The two-time MVP scored 28 points on 10-for-16 shooting in his most minutes yet since the March 23 injury -- 37 -- in the Game 5 clincher last Tuesday night.  
His minutes have increased each game he plays and he was 32 for 67 with 15 3s in the Pelicans series. 
HOUSTON'S X-FACTOR
While the spotlight for Houston in this series is certainly MVP front-runner James Harden and fellow point guard Chris Paul, the Rockets insist that center Clint Capela is just as important to their success.
"Everybody always wants to point out me and James, but he's the X-factor," Paul said.
Houston is 50-5 this season in games where all three have played, and during the regular season the Rockets outscored their opponents in those games by an average of 11.5 points.
D'Antoni believes the 6-foot-10 Capela's ability to switch on guards as well as defend in the paint will be a key in this series.
"It's a must that you have to have (someone like him) against Golden State or they're going to get you," he said. 
"This will help. They're still going to get us to a certain degree, but hopefully we can lessen it more than if we just had a traditional center that can't guard on the perimeter." 
THE CHAMPS ARE THE CHAMPS
Sure, the Warriors might not be the top dogs in the West from the regular season.
They still have the hardware.
Paul has never reached a conference final and neither James Harden nor D'Antoni has a championship either. Kevin Durant captured his first title last season while winning Finals MVP honors.
Golden State's other three All-Stars -- Curry, Draymond Green and Klay Thompson -- has a pair of championships from the past three seasons.
"I like where we are," Kerr said. "Our guys have rings. That's a good position to be in. To me the hardest championship is the first one, as an individual player or as a team because you don't know. You don't quite know if you can do it. 
"Once you get the first one, there's a little bit of house money, but you want it again because it's an unbelievable feeling. I like our position. We're going to go in here knowing we're the defending champs, knowing we've got a couple championships here the last few years. Let's go get another one."
------
AP Sports Writer Janie McCauley contributed to this report.