Persian puppet show creator pleads with thieves to return supplies stolen in San Francisco
SAN FRANCISCO, Calif. - A Persian puppet theater show headed for Broadway in 2025 is now at a standstill after the production's supplies were stolen in San Francisco early Monday.
Hundreds of detailed puppets make up the elaborate theater show, "Song of the North." The show's creator said it's a spectacle that is rarely seen on this scale, and its aim is to highlight Persian stories.
Hamid Rahmanian has been developing this show for years, and now his hard work has disappeared overnight.
He tells KTVU that he parked a U-Haul truck, which contained all the gear for the show, in the parking lot of a Comfort Inn on Van Ness Avenue around 9 p.m. Sunday. 
"We came out in the morning, yesterday morning, and saw that it had been stolen," Rahmanian said. 
At first the ensemble thought the truck might have been towed, but they soon realized the situation was even more dire.
"Two people walked in… stole these 3 years of work… I'm just disappointed… it's like my baby…" Rahmanian said. "There is not even a… puppet left."
Rahmanian isn't the only one impacted by the crime. The show employs nine actors and artists who specialize in puppetry, and now they are all out of work. Esme Roszel and Harrison Greene, both actors employed on the show, are headed home to New York earlier than planned.  
The group says they took precautions to leave the truck in the parking lot overnight, but it wasn't enough.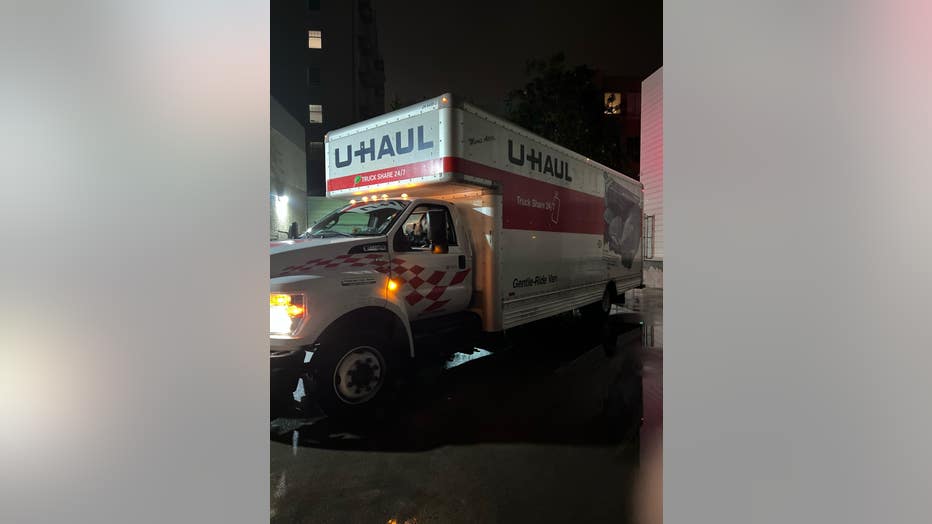 26-foot U-Haul truck filled with theater supplies stolen in San Francisco (Photo courtesy of Hamid Rahmanian) ( (Photo courtesy of Hamid Rahmanian))
"We were nervous about it. Double-checked every door was locked and pad locked, we even had the thought to sleep in it overnight," Greene told KTVU. 
Roszel says "Song of the North" is more than just a show but rather a community effort. 
"I mean, it's my entire life... I've always felt so fortunate to be a part of this show," they told KTVU. 
The show had a total of 16 tour dates scheduled, but now, they are all on hold. On Sunday, the artists performed for an audience of 1,400, including some new friends: the owners of freshly opened coffee shop, Kopiku Coffee. The owners comforted Rahmanian as he cried outside their shop on Tuesday. 
Amanda Chinitra, one of the owners of Kopiku, says this situation truly breaks her heart. She hopes that people who come to San Francisco can see it for more than just these sorts of crimes. 
"Tourists deserve to feel safe. The people who live and work here deserve to feel safe," Chinitra told KTVU. 
Now Rahmanian and his artists are faced with a difficult choice: how to move forward. The group is still holding out hope that the U-Haul could be located in time for the show to go on. 
"I am remaining optimistic," Roszel said.
Rahmanian hopes that if the thieves realize the cargo in the truck doesn't hold any resale value, perhaps they will abandon the truck or return it. 
"I don''t press charges, I forgive you… whatever you want," he pleaded. 
Police are looking for any information in relation to this case. Anyone who spots a U-haul with Arizona license plate AJ59419 is asked to contact San Francisco police.