Two 21-year-old Shalimar vandals surrender to police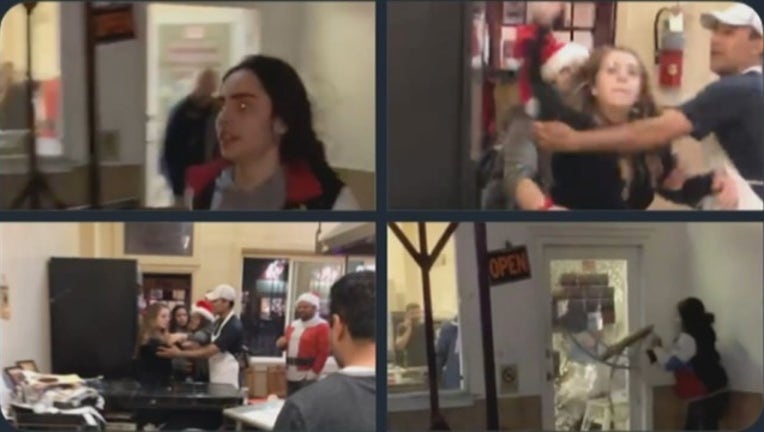 article
SAN FRANCISCO (KTVU) - You've all seen the video by now, a "belligerent" woman smashes the glass front door to popular San Francisco Polk Street eatery, Shalimar, from over the weekend during SantaCon festivities. 
San Francisco police said on Tuesday that the two women accused of vandalizing and violently disrupting the Pakistani-food restaurant last Saturday evening have surrendered themselves to police. 
21-year-old San Francisco resident Natalie Alcantar was booked at SF County Jail for felony vandalism and 21-year-old Pacifica resident Hannah Baughman was booked at the same jail for felony vandalism and for battery.     
Police said in a news release that the altercation began when the women, who were not served for appearing too intoxicated, according to an employee, became angry. They knocked over the cash register and at one point, a sugar dispenser was thrown at employees. 
According to police, an employee said Baughman claimed she had paid for food, but never received it. The employee denied she paid and explained she was not served for being too drunk. That's when the woman became violent, knocking things over. During the confrontation, Baughman punched an employee in the face. 
Meanwhile, Alcantar grabbed a chair from outside the restaurant, as infamously seen on video, and smashed the Polk Gulch establishment's glass front door with it. Both women then left the scene. 
The women turned themselves in to Northern Police Station after seeing themselves in the videos, which made the rounds on local news outlets (KTVU included). 
Their booking photos were not available.
The Lower Polk Neighbors, a neighborhood association, and local Supervisor Aaron Peskin called for attention and action on the incident on their social media. 
SantaCon is revered for its drunken revelry where everyone dresses up as Santa Claus for a pub crawl. Neither suspect was dressed as Santa at the time of the incident at Shalimar, though at least one could be seen carrying a Santa hat.  
For its part, the SantaCon website does not promote getting "smashed" at the event and recommends you stay home if that's what you want to do.