Two ex-Alameda Co. sheriff's deputies to stand trial for alleged assaults on inmates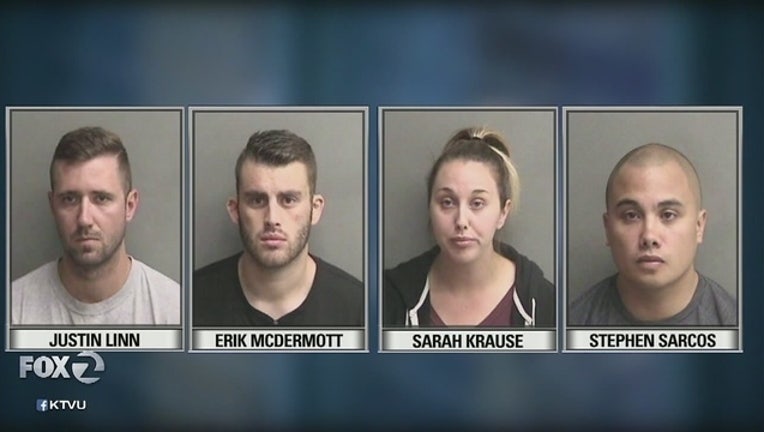 OAKLAND (BCN) - A judge on Monday ordered two former Alameda County sheriff's deputies to stand trial on multiple felony charges alleging that they directed inmates at the Santa Rita Jail in Dublin to spray feces and urine on other inmates that the deputies didn't like.
At the end of a four-day preliminary hearing for Justin Linn, 25, of Tracy, and Erik McDermott, 28, of Concord, Alameda County Superior Court Judge Morris Jacobson also ruled that prosecutors produced sufficient evidence to have them stand trial on one felony count of dissuading a witness for allegedly trying to intimidate an inmate who blew the whistle on them.
"There is pervasive evidence that they (Linn and McDermott) worked together for the common purpose of intimidating witnesses by gassing," referring to the practice of spray people with feces and urine, Jacobson said.
Jacobson said evidence at the hearing indicated Linn and McDermott coerced William Epting, 51, who has two voluntary manslaughter convictions and now faces a murder charge for a fatal shooting in Oakland two years ago, and convicted child molester James Duckett, 35, to gas five inmates the 
deputies didn't like.
Duckett was sentenced to 261 years to life in prison last year for sexually assaulting his stepdaughter when she was only 9 years old, and an adult woman in incidents in San Leandro and Oakland in 2012 and 2013.
The dissuading a witness allegation is based on testimony by current inmate Shane Woodcock, who worked as a cleaner at the jail, that Linn and McDermott asked him to tell inmate Ruben Febo's fellow gang members that Febo was a snitch after Febo sent a letter to authorities about the alleged 
wrongdoing by the two deputies.
One of the alleged victims is former inmate Fernando Soria, 48, who testified last week that McDermott and Linn opened his cell door and allowed Epting to gas him.
Woodcock said McDermott and Linn facilitated "numerous" gassing attacks by Epting on Soria and other inmates.
Woodcock said McDermott and Linn nicknamed Epting "The Preacher" and described the gassing attacks as "spreading the gospel" and "crappuccinos."
He also said McDermott and Linn gave Epting special treatment by frequently allowing him out of his cell, giving him extra food and giving him supplies for gassing, such as plastic gloves, bags and gray bins.
Linn and McDermott, who no longer work for the department, are scheduled to return to court on April 29 to have their trial date set. They're both free on $320,000 bail.
Co-defendants Sarah Krause, 27, and Stephen Sarcos, 32, also are charged in the case but face less serious allegations.
At the end of their preliminary hearing last October Jacobson ordered them to stand trial on a single felony assault charge.