Two new suspects charged in fatal shooting of Chyemil Pierce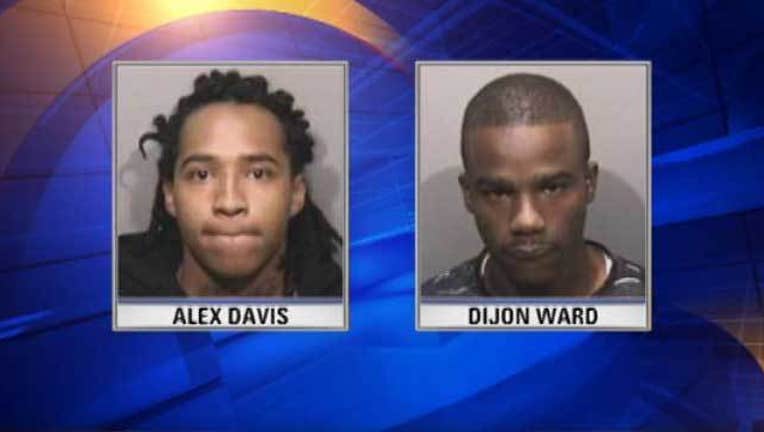 article
OAKLAND, Calif. (KTVU and wires) -- Two additional suspects have been arrested and charged in the fatal shooting last month of a West Oakland mother who was caught in crossfire as she was trying to help two of her children to safety, prosecutors said Monday.
The new suspects, 25-year-old Alex Davis and 20-year-old Dijon Ward, both of Oakland, were arrested on Friday, according to Oakland police.
Their arrests brings to six the number of suspects who have been charged for the fatal shooting of 30-year-old Chyemil Pierce outside of her home in the 2800 block of Chestnut Street at about 4:45 p.m. on March 9.
Oakland police said homicide investigators are continuing to identify additional suspects in connection with the case.
Davis, who was arrested at 4871 Hartnett Ave. in Richmond at 8:50 a.m. Friday, is charged with murder, as are four other Oakland men: Michael Stills, 18, Anthony Sims, 19, and Shelton McDaniels and Jerry Harbin, both 29.
Ward, who was arrested in the 6500 block of Foothill Boulevard at 4:35 p.m. Friday, is charged with being an accessory after the fact.
Oakland police Officer Michael Cardoza wrote in a probable cause statement that, "Davis was identified by witnesses as being an involved shooter in a gun fight which led to the death of Chyemil Pierce."
Cardoza said that after Davis was arrested, he admitted his involvement in the shooting.
Cardoza said Ward was identified by witnesses as being at the scene of the fatal shooting and "fled with one of the involved shooters and assisted the shooter in concealing a weapon which was involved in the homicide."
Davis and Ward were scheduled to be arraigned at the Wiley Manuel Courthouse in Oakland this afternoon.
Stills, Sims, McDaniels and Harbin are scheduled to return to court next Monday to possibly enter pleas.
Oakland police said Pierce, who worked as a human resources specialist at Kaiser Permanente, was trying to rush her children to safety when she was shot.
The shooting occurred after groups of male suspects got involved in a fight between female subjects on the street, according to police.
Prosecutors allege that Sims, Harbin and McDaniels all opened fire in the shootout that killed Pierce, who was hit by a bullet in the back of her head, but investigators haven't disclosed who fired the shot that killed her.
Stills is not charged with firing a gun during the incident but is accused of being armed with one. Prosecutors haven't disclosed what role they believe Stills played in the shooting.
Prosecutors allege that Sims, Harbin, McDaniels, Stills and Davis are all legally responsible for the killing, no matter who fired the shot that claimed Pierce's life.
Police said Sims admitted that he participated in the gun battle, but his attorney said he only did so to protect a 16-year-old friend who was seriously wounded in the shooting and remains hospitalized.