UCLA holds off Stanford 69-67 for 3rd straight win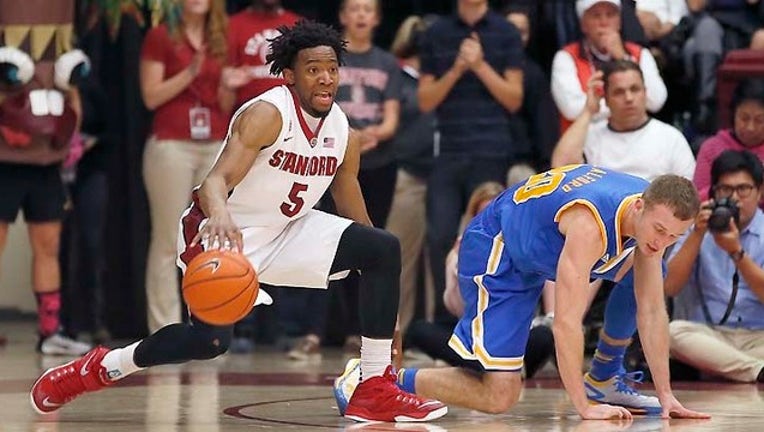 article
STANFORD, Calif. (AP) -- Nothing has come easy when UCLA and Stanford have met this season.
So when Chasson Randle's running 3-pointer floated toward the basket as the final buzzer sounded, both teams thought anything was possible.
 They watched the ball for what seemed like forever until it banked off the backboard, hit the front of the rim and bounced out, cutting the Cardinal's wild rally one shot short.
Norman Powell finished with 20 points and eight rebounds, Isaac Hamilton scored 18 points and UCLA survived to beat Stanford 69-67 on Thursday night for its third straight win.
''I was going to be sick if that made it in,'' said Bruins guard Bryce Alford, who added 18 points but split a pair of free throws in the final seconds to give the Cardinal a chance to win. ''Unfortunately I didn't get it done, and fortunately a great player missed a shot.''
The Bruins built a 22-point lead with 11 minutes remaining before holding off the Cardinal's comebackEven with all the late drama, it was still an easier affair for UCLA than the last time it played Stanford. 
The Bruins outlasted the Cardinal 86-81 in double-overtime on Jan. 8 at Pauley Pavilion, which had been their only win over a team in the RPI top 50.
That victory vaulted UCLA's turnaround that continues to show no end.
The Bruins (14-9, 6-4 Pac-12) have won six of eight following a five-game losing streak, including six in a row with big man Tony Parker in the lineup. 
UCLA improved to 2-5 on the road and won its first non-neutral site game outside of Los Angeles all season.
''We're healthy. Hopefully we're gaining some momentum. We're getting some confidence,'' Bruins coach Steve Alford said.
For as sweet of a victory as it was for UCLA, it was equally difficult for Stanford to absorb.
Anthony Brown had 19 points and nine rebounds, and Randle scored 13 for the Cardinal (15-7, 6-4), who dropped consecutive games for the first time since last March. It was only Stanford's second loss at Maples Pavilion this season.
''We have to make sure that we bounce back. Adversity's part of the season. Most teams are going to face adversity at some point. We're facing adversity right now,'' Cardinal coach Johnny Dawkins said.
About the only thing the Bruins didn't do well was close each half - and that almost cost them.
UCLA led 31-15 with 3:29 left in the first half, seemingly ready to rout the home team. Instead, the Cardinal closed the period with 10 straight points.
The Bruins burst out of the locker room again with a 19-5 spurt, pouncing on the Cardinal's costly errors. They led by 22 with less than 11 minutes to play when Stanford slowly started to trim the deficit behind a series of long-range shots.
Brown's 3-pointer sliced UCLA's lead to 67-61 with 3:49 remaining. The Bruins grabbed three consecutive offensive rebounds to drain the clock, then watched Stanford miss twice on the other end.
After another botched Bruins possession, Rosco Allen split a pair of free throws. Stanford stopped UCLA again, then Brown put back a rebound to bring Stanford within three with 21.5 seconds to play.
The Cardinal got another chance when Powell missed the front end of a one-and-one. Randall raced down out of control and lost the ball, though, giving UCLA possession.
Powell made 1 of 2 free throws before Allen connected on a 3-pointer to pull Stanford within 68-67 with 4.8 seconds left. Alford was fouled with 3.3 seconds to go, but only made the second free throw.
Following a timeout by UCLA to set its defense, Randle hauled in a pass near half court. He took a couple of dribbles and attempted the running shot a few feet beyond the arc that just missed.
''I'd liked to say we deserved it,'' Steve Alford said. ''But they deserved it, too.''