Valentine's Day business down in San Jose because it's on a weekday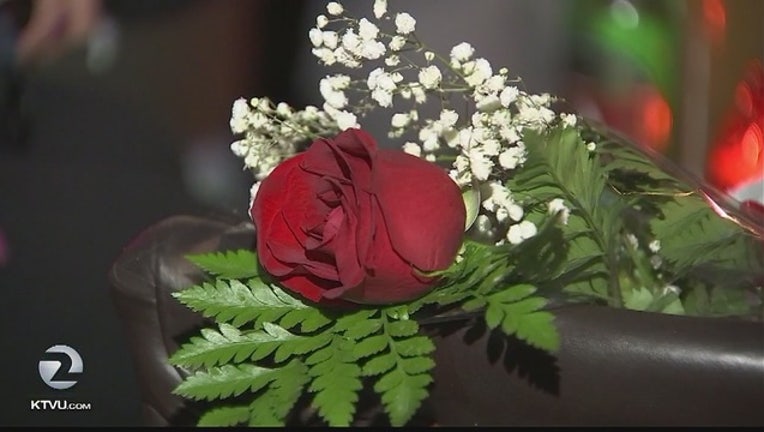 article
SAN JOSE, Calif. (KTVU) - It's the one day out of the year all about love. Valentine's Day is a popular time to tie the knot and a lucrative day for florists and restaurants. At Santana Row, business for some of these restaurants a little down because Valentine's day is on a Tuesday, but nonetheless love is in the air.
With live music playing, it's the first Valentine's Day for this budding young romance.
"It's always going to be great when you are with someone special like her," said Navid Rastegar, San Jose.
"This is perfect," said "I wasn't quite expecting this all," said Ashley Debaun of San Jose.
It's a good excuse for date night for the Pappalardos married for more than 50 years.
"We are still in love," said Vickie Pappalarardo of San Jose. "We have four children. We have a rich and full, lovely life."
Couples celebrating love at Santana Row. The manager at El Jardin and Consuelo's Mexican Bistro said business is down 20 percent from last year, given Valentine's Day falls on a week day. 
At Citti's Florist in San Jose, there were long lines for the last minute rush to buy flowers.
"It's absolutely our biggest day of the year," said Christopher Citti of Citti's Florist. "It's been crazy. We've had over 40 drivers delivering all our packages."
Earlier in the day, at the wedding chapel at the Santa Clara County Building, Myla and RJ Altares waited two years to get hitched. It was nobrainer for them to get married on this day. Their wedding was one of 25 weddings in the chapel. More couples chose the "express" ceremony for $80. There was no appointment needed to say "I do" at the window. It was perfect for one long distance couple.
"She basically landed here last night and we just wanted to get married today," said Ameya Lad of Milpitas.
Back at Santana Row, it wasn't all about couples. This group of friends, all single, celebrated what they do have, instead of what they don't have.
"I think having a spouse is really nice and we all love that," said Stephen Cital of San Jose. "We've all discussed that tonight but sometimes those things don't last forever but at least friends do."
"It's also about celebrating who you are and the people who love you no matter what," said Fernando Brizeno of San Jose.