Video: Governor Newsom takes down a kid during basketball game in Beijing
BEIJING - Video of California Gov. Gavin Newsom accidentally toppling over a child while playing basketball with a group of young students at a Beijing elementary school has been getting a lot of attention on social media.
On Sunday, the governor wrapped up his week-long trip to China where he met with leaders to discuss issues on climate change. The trip also included a surprise meeting with President Xi Jinping.
Over the weekend, video showed Newsom on a basketball court, spinning the ball around his back, flanked by a couple of little defenders, before he took one of them down.
Onlookers let out a collective, "Awww!" as the governor got tangled up with the young player and lost his balance.
"I got you," he said smiling as worked to get untangled and got up with the child who got a friendly hug and a pat on the back from the governor in the process.
Neither was injured. 
The governor proceeded to play some more hoops with the children and later joked, "I gotta work on my balance!"
Newsom received a warm farewell from the young group of kids, with a student calling out, "See you next time. Bye, bye!"
Newsom's office on Sunday said he wrapped up his trip to China in Shanghai, where he launched a new climate partnership with the city. He also toured Tesla's Shanghai gigafactory, described as "one of the most productive electric vehicle (EV) plants in the world."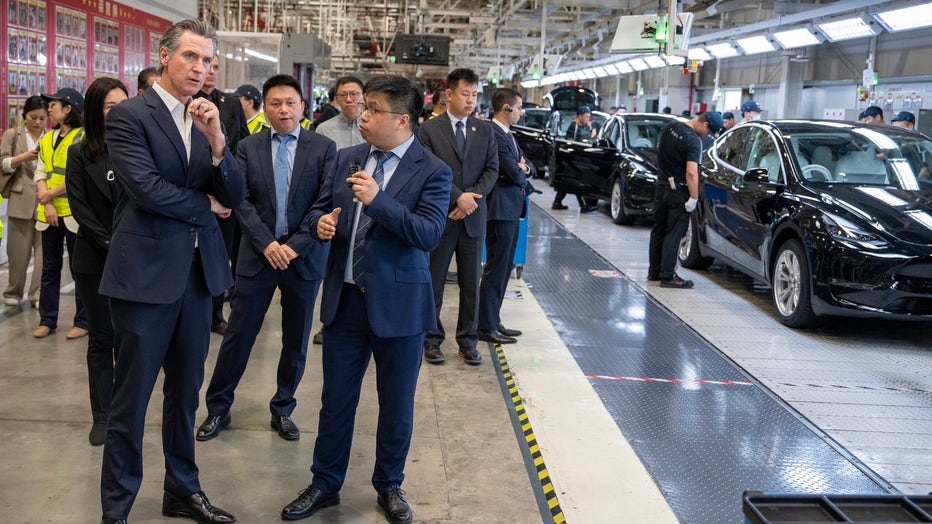 Governor Gavin Newsom toured Tesla's Shanghai gigafactory before wrapping up his weeklong trip to China on Sunday, October 29, 2023. (Office of the Governor of California)
During his last day overseas, Newsom also met with United Airlines leaders to celebrate the carrier resuming daily flights between San Francisco and Beijing next month. The airline recently also upped the number of flights between San Francisco International Airport and Shanghai Pudong International Airport.
Part of Newsom's trip involved discussing "efforts to boost the recovery of tourism between California and China, and the need for increased flights," his office said. 
The stated goal of Newsom's tour of China was to collaborate and create partnership with the country on efforts to fight climate change. But the trip also opened the door to discuss a host of other issues. 
Experts noted that it emphasized China's existing relationship with California, despite the high tensions between Washington and Beijing. 
China's warm response to the California governor's visit "sends a very clear signal that working with California is desired and, at minimum, politically safe and encouraged," said UCLA professor Alex Wang, a leading expert on environmental law and the law and politics of China. 
Political analysts said the trip also created an opportunity for Newsom to exercise his diplomatic muscles, noting speculation that he's positioning himself for a future presidential run. The governor has repeatedly refuted that speculation, saying he's not interested in the presidency.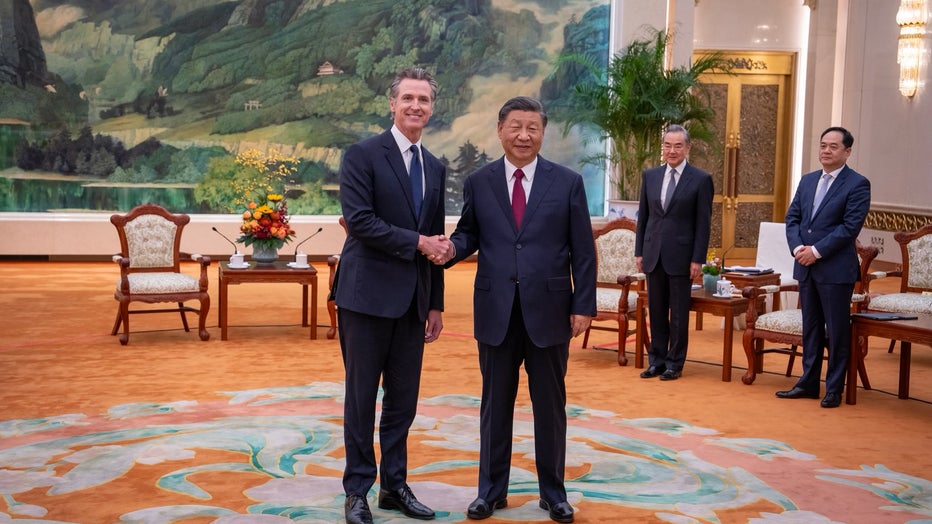 Gov. Newsom met with President Xi Jinping and other high-level Chinese officials on Oct. 25, 2023.
The Associated Press contributed to this story, which was reported from Oakland, Calif.