Vogelsong, Giants complete sweep with 3-1 win over Brewers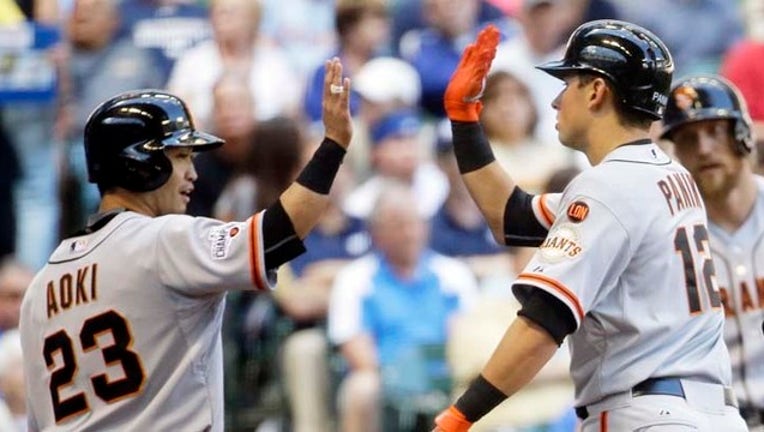 article
MILWAUKEE (AP) -- Ryan Vogelsong allowed one run in six innings to win his third straight start, Joe Panik hit a two-run homer and the San Francisco Giants completed a three-game sweep in Milwaukee with a 3-1 victory Wednesday over the Brewers.
The Giants bullpen finished off the last-place Brewers with three hitless innings, capped by Santiago Casilla's 1-2-3 ninth for his 14th save.
Both teams squandered numerous early scoring chances. The Giants stranded six runners through the first four innings, but they finally broke through on Panik's shot to right for a 2-1 lead in the fifth off starter Mike Fiers (1-5).
Gregor Blanco added an insurance run with a pinch-hit sacrifice fly in the ninth.
It was more than enough cushion for Vogelsong (4-2), who allowed just Elian Herrera's RBI single with two outs in the fourth.
Milwaukee could have had a bigger inning if Khris Davis wasn't thrown out at home after appearing to hesitate while breaking from third on a hard grounder to first by Adam Lind.
After a single by Aramis Ramirez, Herrera followed with his one-bouncer through the hole into left with to score Lind from third to give Milwaukee a 1-0 lead.
Vogelsong otherwise finished May with another effective outing. The Giants have won all five of Vogelsong's starts this month, with the veteran right-hander having given up just four earned runs in 31 2-3 innings during that stretch.
Fiers was OK working on three days' rest in place of Wily Peralta (left oblique), who was placed on the 15-day disabled list this week. The lanky right-hander allowed eight hits and had six strikeouts in five innings.
Milwaukee lost its fifth straight. Davis did provide a bright spot in the lineup after hitting two triples, both on hard-hit shots the other way to right.