Wambach scores twice in 3-0 US win over Ireland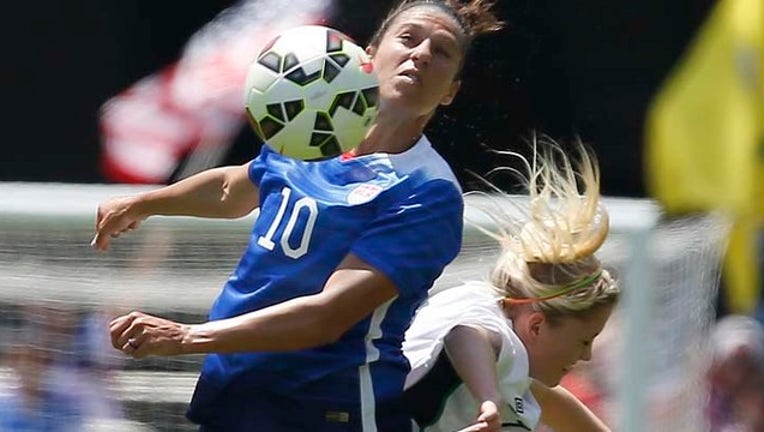 article
SAN JOSE, Calif. (AP) — Judy Wambach got a special Mother's Day gift.
She was in the stands Sunday to see daughter Abby score twice in the U.S. national team's 3-0 victory over Ireland in an exhibition match in preparation for the Women's World Cup.
"It's such a special day being Mother's Day and I saw her turn around after her second goal and point up to me," Judy Wambach said. "That's my Mother's Day gift. Is that not the best?"
Defender Julie Johnston, who has made just 10 international appearances, added the other goal to extend her scoring streak to three games.
It was the Americans' fifth straight shutout, and goalkeeper Hope Solo added to her U.S. record with the 83rd of her career. Wambach padded her career scoring record of 180 goals, and Sunday's match was her 44th with multiple goals.
The sold-out exhibition at San Jose's new Avaya Stadium was part of a send-off tour for the Women's World Cup, which starts next month in Canada. The Americans head to Carson, California, next Sunday for a match against Mexico.
Coach Jill Ellis said she was pleased with the result, but there are still things the team needs to work on.
"We created a lot of chances. Their goalkeeper came up big, inadvertently I think at times, but she did great. Yeah, I was pleased with the three. Do we want more? Of course we want more," Ellis said.
The players brought their moms on the field for the pregame ceremony. The mothers surprised their daughters Saturday night during a team meal.
Wambach first scored in the 42nd minute, a short time after Irish defender Meabh De Burca got nailed by a ball straight to the face and crumpled in front of the goal. Wambach scored again on a header less than three minutes later on a cross from Carli Lloyd. Johnston's goal came in the 54th minute.
Solo said Wambach is at the top of her game.
"She's been training in Seattle trying to get her timing back with her heading and it just hasn't quite been there, and then all of the sudden one week it just clicked. She got her footwork down, she got the snap back and she got the power back in her heading," Solo said. "That was a prime example on that header goal of her footwork and what she's been doing to really get herself back."
There was a scary moment in the 63rd minute when Wambach collided with Irish goalkeeper Niamh Reid-Burke. Wambach's nose was bloodied, but she returned to the match less than three minutes later.
Wambach signaled her mom when she went down that she was fine.
"After the Brazil game many, many years ago when she broke her leg, we had a sign either thumbs up or OK so that if I'm watching on television or on the field, I know she's OK," Judy Wambach said.
Abby Wambach said she doesn't know if her nose if broken, and it doesn't really matter.
"It is what it is. At this stage, going into the World Cup, you can either get X-rays and scans and whatnot. But if you're not going to do anything about it, what's the point, in my opinion," she said. "So it doesn't matter if it's broken or not. I'm pushing forward."
The United States was without forward Alex Morgan because of a bone bruise in her left knee. She will also miss next Sunday's game against Mexico.
Ellis said this week that the injury is not serious and Morgan is being held out as a precaution.
The United States was also without midfielder Tobin Heath because of a lingering left hamstring injury.
Megan Rapinoe was honored before the game for her 100th international match, which came April 4 when the U.S. defeated New Zealand 4-0 at Busch Stadium in St. Louis.
The U.S. usually gives the players a watch for their 100th cap, but Rapinoe asked that a donation be made to the charity iACT. And per U.S. tradition, Rapinoe wore the captain's band against Ireland.
Lori Chalupny entered the game in the second half for her 100th career cap.
The U.S. is now 11-0-0 against Ireland, which is currently ranked No. 31 in the world and isn't among the 24 teams playing in the World Cup. The Irish roster included forward Stephanie Roche of the NWSL's Houston Dash.
The United States opens the World Cup on June 8 with a group play match against Australia in Winnipeg, Manitoba. Women's soccer's premier tournament is being played in six Canadian cities over the course of about a month, with the final set for July 5 in Vancouver, British Columbia.
The Americans are in Group D with Australia, Nigeria and Sweden.
A sellout crowd of 18,000 fans attended Sunday's match at the new home of the San Jose Earthquakes.