Warriors confident after sweep of Pelicans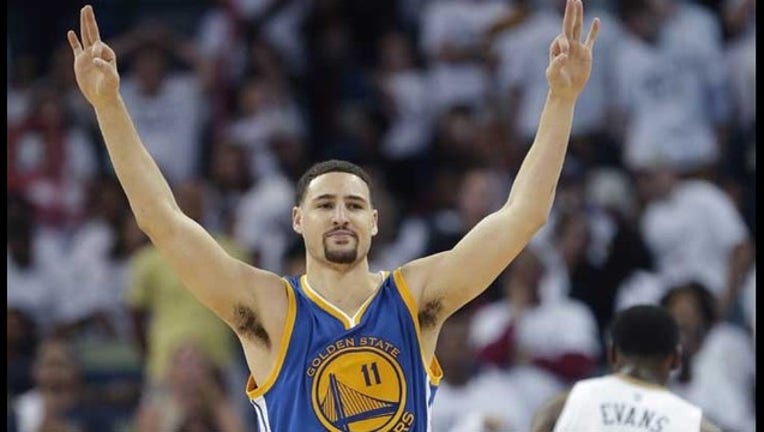 article
NEW ORLEANS (AP) — Golden State coach Steve Kerr dead-panned that he'd be relaxing on the beaches of Cabo San Lucas while waiting to find out who would be the Warriors' second-round playoff opponent.
"I'll be in Cabo all week. I told the guys just to get some work in if they want," Kerr said, unable to stop himself from smiling before he got to the end of the sentence.
Among those who won't be laughing is the Warriors' next opponent, which will have to figure out how to stop Stephen Curry and Co. from scoring in bunches, as they did in their convincing four-game sweep of burgeoning young All-Star Anthony Davis and the upstart New Orleans Pelicans.
Now Golden State awaits the winner of the Memphis-Portland matchup. Memphis leads the series 3-0.
On Saturday night, the Warriors came through with their most complete performance of the first-round, building a 13-point lead at halftime, widening it to 24 late in the third quarter and squelching the Pelicans' desperate, last-gasp bid in the fourth quarter, 109-98.
Curry scored against anyone the Pelicans sent out to guard him, including 6-foot-10 Anthony Davis, in the clinching game. He also hit 6 of 8 3s he put up to finish with 39 points.
When he wasn't scoring, he had plenty of help from Klay Thompson and Draymond Green.
Curry averaged 33.8 points during the series, while Thompson averaged 25 points and Green, 15.8.
"You play great defense and all of a sudden it looks like they're throwing up a shot, but it goes in," Davis said. "It's tough. Hats off to them. They made incredible shots through the course of the series. We tried our best to stay attached to them, but they did a great job. Some of it was us and some of it was them hitting tough shots."
Meanwhile, Andrew Bogut made it hard on any Pelican player trying to score inside, blocking eight shots in the series and altering many more.
"They're built to win a championship. They're probably the most complete team that we faced, them and San Antonio," Pelicans coach Monty Williams said. "I had to watch games that they lost just to see what teams did against them because you just don't see it when they're winning games. You're like, 'Where's the weakness?' So to me, they just don't have many weaknesses, if any. Obviously they're well coached and they have great players."
While the Pelicans narrowly made the playoffs as the Western Conference's eighth seed, they appeared to improve through the season, winning eight of their last 11 high-pressure games to pass Oklahoma City for the conference's final playoff spot.
Jrue Holiday, who had missed three months with a lower right leg injury, got healthy enough to play about 15 or so minutes per game just before the playoffs began, adding a boost to a team that already was already getting double-digit scoring from Davis, Tyreke Evans, Eric Gordon and Ryan Anderson.
Meanwhile, 7-footer Omer Asik was averaging nearly 10 rebounds as he helped Davis protect the paint.
Yet the Warriors were in control for most of the series. The exception was Game 3, when they trailed by 20 entering the fourth quarter — on the road — yet still found a way to tie it at the end of regulation and win in overtime.
If there was a character-defining moment for the Warriors in their first-round series, that was it, and they celebrated as if it was a clinching triumph. For practical purposes, it may well have been as no NBA team has ever overcome a 3-0 playoff series hole.
"We still have a long way to go to accomplish what we want to do," Thompson said. "We've had a bull's eye on our back the whole year, but that makes it more fun. If you want to be great, you have to have high expectations. ... We've still got guys who really want to go deep in the postseason, including myself, who haven't had that experience yet."
The Warriors foresee tougher challenges ahead, but appear confident they'll improve on last season's second-round exit.
"If we just keep our composure to start games, especially on the road, we'll be fine," Curry said. "Our defense is what it is; it's carried us all season, and that will be there for us. But, offensively, if we just stick to who we are, moving the basketball, looking for the best shot every possession, our talent will shine across the board and we'll be in good shape."