Warriors' Kerr expects Thompson to play in Game 1 of finals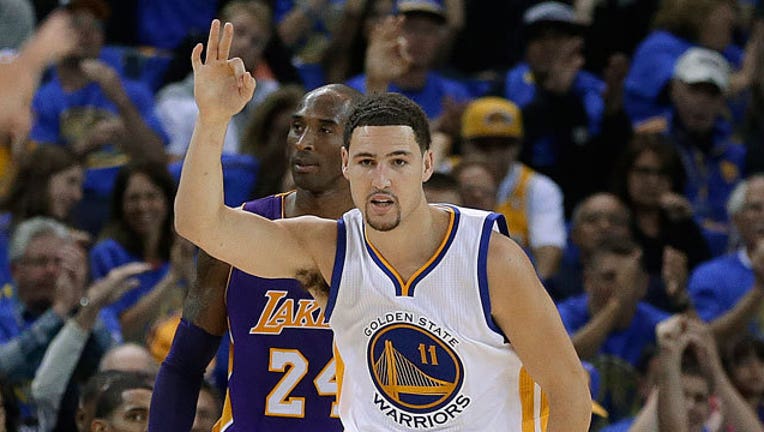 article
OAKLAND, Calif. (AP) — Golden State Warriors coach Steve Kerr is so confident Klay Thompson will be cleared for Game 1 of the NBA Finals against Cleveland that he isn't preparing to play without him.
The All-Star guard sat out a second consecutive practice Saturday recovering from a concussion. Kerr said Thompson is feeling well and progressing through the NBA's concussion protocol.
The Warriors are off Sunday and resume practices Monday. They host the Cavaliers in Game 1 on Thursday night.
"I'm anticipating he's going to be there," Kerr said.
Asked what his options are if Thompson can't play, Kerr responded: "I haven't even thought about it. The series is like five weeks away. We have plenty of time to think about that."
He later said backups Leandro Barbosa and Justin Holiday would be the most likely options if Thompson isn't cleared to play — though he doesn't believe that'll be the case.
"I expect him there," Kerr repeated.
Thompson suffered a concussion after getting kneed in the head by Houston's Trevor Ariza in Golden State's Western Conference finals clinching win Wednesday night. Team doctors initially cleared Thompson to return to the game. He ended up not playing, and the team said he started developing symptoms after the game.
Thompson's father, former NBA player Mychal Thompson, had to drive his son home because he was feeling ill — including vomiting a couple of times. He also needed stitches on his right ear after the hit caused blood to spill down the side of his head.
Thompson must be symptom free before he can return to practice.
The NBA's concussion policy requires players to pass a series of steps without experiencing symptoms before they can come back. That starts with riding a stationary bike and progresses to jogging, agility work and non-contact team drills, according to the league. Players must start over if they experience any symptoms.
The protocol also requires the team physician to discuss the process with Dr. Jeffrey Kutcher, the director of the NBA's concussion program, before a player can return. Kerr said he'll continue to listen to the doctors and he's not worried about Thompson's staying in rhythm when he does return.
"Klay's disposition never changes. He's always just mellow and he just sort of takes it all in stride," Kerr said. "It's good that we have this break, because he has the time to go through what he needs to get through."
In other injury news, backup center Festus Ezeli sat out Saturday's practice with an illness. Reserve forward Marreese Speights, who missed all of the conference finals with a strained right calf, went through non-contact drills and isn't "that far off" from returning," Kerr said.