Warriors 'Splash Brothers' to start in NBA All-Star Game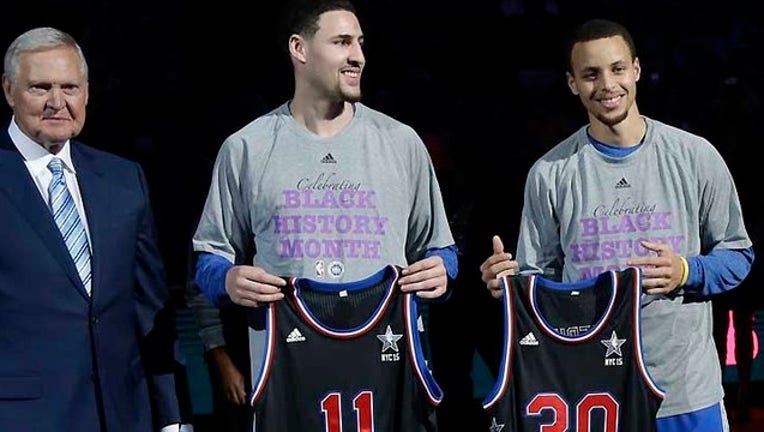 article
NEW YORK (AP) — Western Conference All-Star team coach Steve Kerr's lineup will look nothing like the one voted for by fans as star after NBA star has gone down with injuries.
Golden State Warriors guard Klay Thompson and Houston Rockets guard James Harden were named Wednesday as starters. They will replace Kobe Bryant, who is out for the season with a shoulder injury, and Blake Griffin, who will be sidelined at least three weeks after surgery for a staph infection in his right elbow.
Bryant and Griffin were voted starters by the fans for the NBA mid-season showcase set for Sunday in New York, as was Pelicans forward Anthony Davis and Thompson's fellow Splash Brother, Stephen Curry.
But after a loss to the Pacers on Wednesday, Davis announced that he, too, has decided to sit out with an injured right shoulder that kept him out of the last two games before the break.
"While I'm disappointed that I won't be able to compete this weekend, I'm still very excited about the opportunity to be a part of the All-Star events in New York and celebrate our game with some of the NBA's greatest figures," Davis said in a statement.
His last-minute replacement is Dallas Mavericks forward Dirk Nowitzki, giving him his 13th All-Star appearance for a franchise that doesn't have another player with more than four.
"This year it threw a little bit of a wrench into my plans, but I am very excited," Nowitzki said in a news release.
Thompson is averaging 22.1 points and shooting 44 percent from 3-point range for the Warriors, who have the league's best record at 42-9. He will start alongside Curry. Kerr, their coach, will decide if Nowitzki or someone else will replace Davis in the starting lineup.
Harden is leading the league in scoring at 27.7 points per game.
The 36-year-old Nowitzki is averaging 18.3 points and 5.9 rebounds per game. The 7-footer from Germany went to 11 straight All-Star games before missing in 2013. He went again last year.
Davis had the support of his coach and teammates to play Sunday if he was healthy enough. But he chose to rest the shoulder.
"After careful thought and consideration, I've decided I will not be participating," Davis said. "I want to thank the fans for voting me into the All-Star game and I am sorry I will not be able to play."
Davis, now in his third season out of Kentucky and still only 21 years old, has averaged 24.5 points, 10.3 rebounds and 2.8 blocks per game, which leads the Pelicans in all three categories.
He had planned on participating in both the game and All-Star Saturday night. But last Saturday night during a loss to Chicago, Davis lost his grip on the rim while completing an alley-oop dunk, falling about 7 feet horizontally to the hardwood.
Davis' announcement came after the Pelicans lost their third straight game, 106-93 to Indiana. Shortly before tip-off, Pelicans general manager Dell Demps presented Davis with a black All-Star jersey, though everyone watching understood that it wasn't clear if he would get to suit up.
For Nowitzki, the downside is that he was relishing a chance to relax in his 17th season. The upside is that he gets to go back to one of his favorite arenas, Madison Square Garden.
"He's compiling one of the great resumes in NBA history," Dallas coach Rick Carlisle said in a second meeting with reporters after the Mavericks went into the break with an 87-82 victory over Utah on Wednesday night. "It's a little disappointing that he can't just kind of disappear and enjoy some real off time, but this is one of the responsibilities that comes with greatness."