Watch: Rapper Tekashi 6ix9ine dodges beer can thrown at him during baseball game
MIAMI - Rapper Tekashi 6ix9ine narrowly missed a beer can that was thrown at him at the World Baseball Classic game between Mexico and Puerto Rico in Miami, Florida, Friday. 
The incident was filmed by Aram Leighton.
The video showed the rapper facing and yelling at the crowd while waving a Mexican flag. That was when a beer can is seen flying past him. 
RELATED: EXCLUSIVE: Tekashi 6ix9ine on prison, snitching, new music and more
Several people were also seen giving the rapper the middle finger gesture.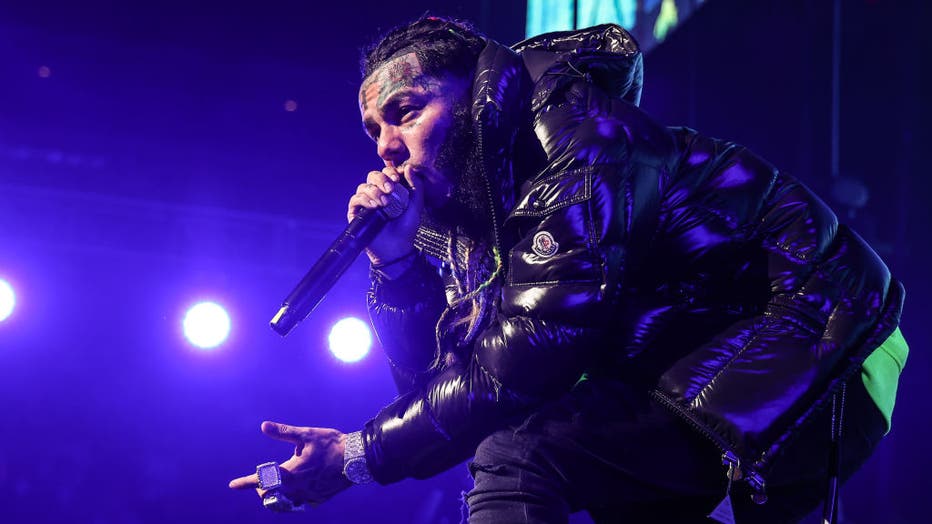 MIAMI, FLORIDA - DECEMBER 17: Rapper Tekashi 6ix9ine performs during the MiamiBash 2021 at FTX Arena on December 17, 2021 in Miami, Florida. (Photo by John Parra/Getty Images,)
The rapper was reportedly intoxicated and behaving belligerently during the game. He had to be removed by security personnel. 
Video also surfaced on social media of the rapper being escorted out of the stadium by uniformed security personnel. 
Storyful contributed to this report. This story was reported from Los Angeles.