'We could have died:' Siblings describe Tesla spontaneously combusting in Sacramento
SACRAMENTO, Calif. - Mystery still surrounds the apparent spontaneous combustion of a Tesla Model S on a Sacramento freeway over the weekend.
But in an interview with KCRA, siblings Sunit and Dilpreet Mayall described the terrifying moments their car's battery component suddenly burst into flames on Saturday about 4 p.m. driving eastbound on Highway 50. 
"We could have died in that moment," Sunit Mayall told the TV station. "I was really scared. I was panicking a lot and just re-living it. I'm getting emotional right now. But it was really scary."
Just before the car caught on fire, the Mayalls said they heard popping sounds. Sunit Mayall, who was driving, told her brother to run away from the car as fast as they could.
They were able to take video of what happened, and the Tesla exploded seconds after they fled the electric vehicle. 
Neither sibling was hurt, but all they could think about was their parents. 
"If one of my parents was in the car instead of us — we share the car — we might not be as quick. And it was a matter of two, three seconds," Dilpreet Mayall told KCRA. 
Metro Fire of Sacramento crews raced to the scene, using 6,000 gallons of water to put out the flames and cool the battery. 
Firefighters said that this is normally far more water than they would use to put out a house fire, and extinguishing electric vehicle and lithium power fires is proving much more challenging to them.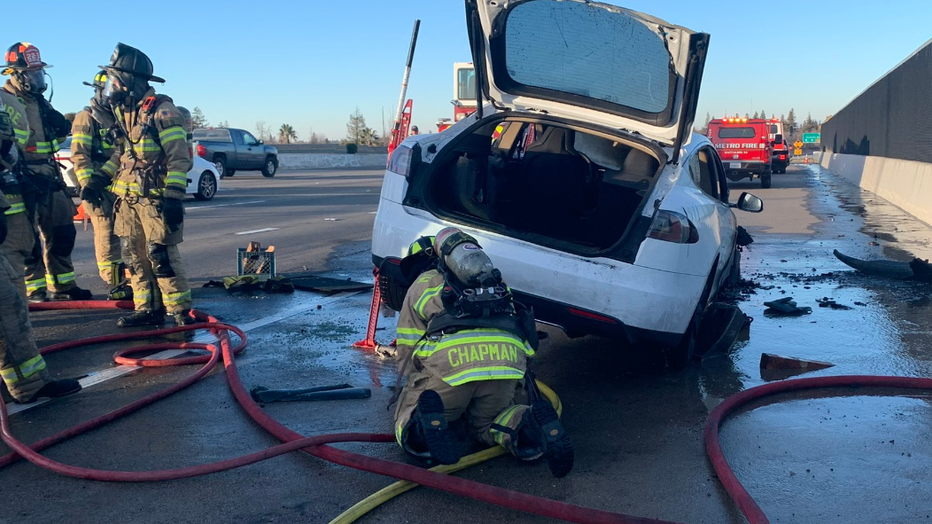 Tesla catches fire on Sacramento highway
According to a website called Tesla-Fire.com, which tracks Tesla fires via news articles, there have been 168 Tesla fires as of Friday; 50 of them have been fatal. 
Not all the Teslas on this list spontaneously combusted. 
But at least a few did, including one in eastern Massachusetts when a car battery burst into flames sitting in a Tesla dealership, and a Tesla Model Y in Canada started smoking while Jamil Jutha was driving the car, which alerted him there was an error, giving him time to break the driver's window to escape before the car went up in flames. 
Sunit and Dilpreet Mayall said they're lucky to be alive, but they are haunted by what happened and not knowing the cause.
They said the car was serviced just a few weeks ago and no warnings popped up.
Dilpreet Mayall told KCRA that they reached out to Tesla multiple time, but haven't heard anything back. 
In the meantime, the Mayall family said they have filed a claim with their car insurance and are currently waiting to hear back about the cost of the damage.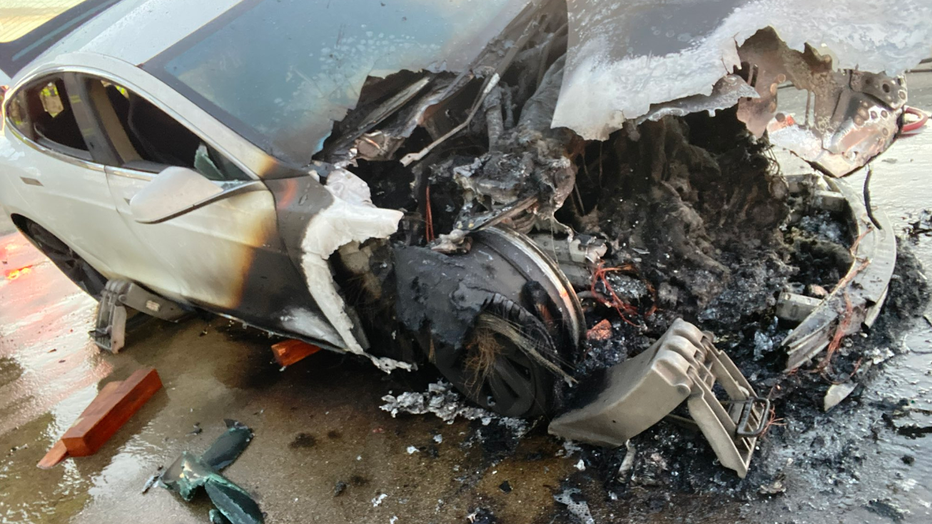 Tesla in Sacramento spontaneously combusts on freeway.
KCRA's Orko Manna conducted the interview for this report.