'We were all crying': 100-year-old grandma overjoyed by surprise birthday party
Bonnie Rakes, a grandmother turning 100 years old, was overcome with emotions when her family surprised her with a birthday party last month. 
Her granddaughter Kimberly Booth told FOX Television Stations that family "from all over the country" traveled to Orland, California to surprise Rakes after her oldest daughter died in August. 
"Grandma was devastated and really didn't even want to celebrate her birthday," Booth shared. "She had no idea we had flown out." 
Rakes is shown in a video tearing up as a chorus of family members yell "Happy birthday!" and sing to her.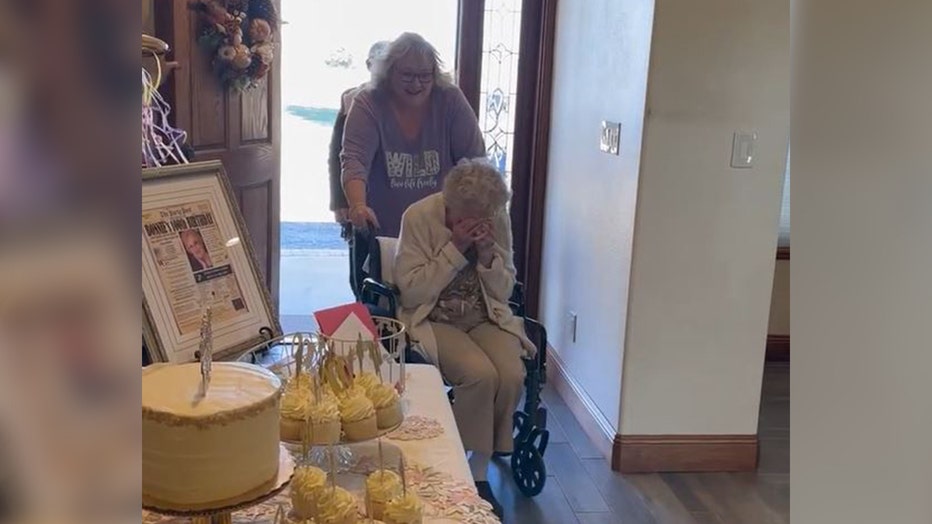 In a video, Bonnie Rakes is shown tearing up as her family members yell "happy birthday" and sing to her. (Credit: Kimberly Booth via Storyful)
"We were all crying," Booth recalled. "She was the star of the show for the whole day!  She just couldn't believe that family had come from all over to be with her on her special day!" 
RELATED: 92-year-old breaks world record, becomes oldest person to hike Grand Canyon rim-to-rim
Booth added, "It was such an awesome day!" 
This story was reported from Los Angeles.