"We were waiting and waiting:" Limo client never got picked up by suspect killed in I-80 standoff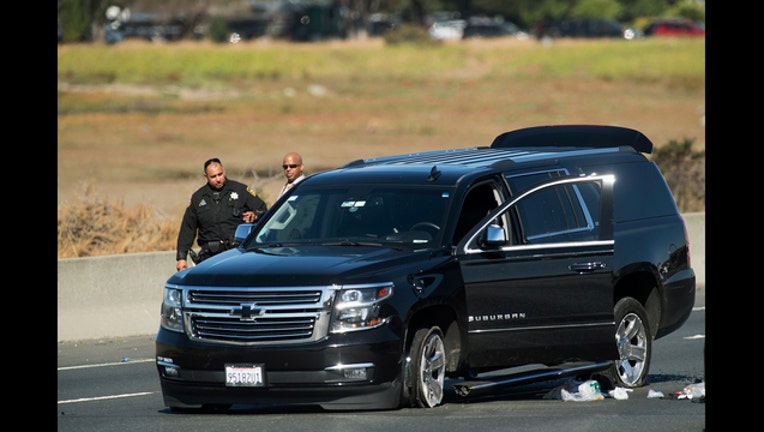 article
Natalie Naifeh became friends with her limo driver, Demilo Trayvon Hodge, two years ago.
The 46-year-old physical therapist was visiting wine country from Texas and discovered his company Executive Excursion Limousine Service-Airport Shuttles through a friend of a friend. But he became more than a limo driver to her. He became a friend. And so she was very worried when he didn't show up Wednesday at 11 a.m. to pick her up at the Sacramento airport.
"We were just waiting and waiting," Naifeh told KTVU Thursday in an exclusive interview. "We thought we had gotten taken. We had paid in advance.Then I thought maybe he had gotten into an accident."
He had been.
In fact, he had been killed by officers in a tense standoff on Interstate Highway 80 in Emeryville, after police say he was evading them in a three-county chase stemming from Fairfield. Fairfield police say he killed 68-year-old William Freeman in December 2015, although they have not released any evidence or a motive.
Hodge's SUV was disabled about 9 a.m. when the California Highway Patrol put down spike strips at University Avenue in Berkeley. The pursuit ended in Emeryville. Hodge's life ended in front of the Hilton Garden Inn on the freeway, when officers shot him dead after yelling at him to exit his car with both hands up.
Graphic video at the scene details his last moments. Hodge had been in prison before, according to friends and himself, when he was profiled in a KTVU piece in 2009 after he was paroled from Lompoc State Prison in 2007 after serving time for possessing a firearm and narcotics for sale. Records also show that he and his ex-wife had also filed for bankruptcy. An old friend from middle school said he had  been in prison at least "a couple" of times.
Hodge had never told Naifeh about his criminal past. She only knew him as an outgoing, loving limo driver - someone she talked to throughout the year, invited to her home in Texas and considered a friend.
"We were so looking forward to him," Naifeh said. "He's so special. He cared. He reached out. He went the extra mile. You could tell he loved you. He was such a great guy. Demilo's really a sweetheart."
Nafifeh wasn't the only person who felt that way.
Joe Foppoli, who owns Christopher Creek winery in Healdsburg, knew Hodge for several years. He said he was aware that Hodge had "some demons" but that he was working very hard to "create something positive."
And it seems like Hodge had been working hard to erase his past. This year, his limo company won a small business award from the Napa Chamber of Commerce.
Foppoli said, "He was one of the nicest people I've met. We talked about family, and God and work." 
A few years ago, Hodge confided to Naifeh that his mother had died. "He told us he was so depressed, but our visit helped pull him out if his depression," she said. His uncle also died shortly after his mom.
After waiting a long time for Hodge to show up on Wednesday, Naifeh and her travel group called his cell phone. "But of course, no one answered," she said. Moments later, her phone rang. It was a police officer.
Naifeh's friend, Todd Carlson, took the call.
"The officer said he couldn't disclose anything," Carlson told KTVU. "But he said, 'You need to make other arrangements. He's not going to be able to make it.'"
Carlson said he asked: "Well, what about tomorrow?"
And the officer responded. "No, he's not going to be able to make it at all."