'Welcome to hell, ladies:' Dublin prison officer sued in sex abuse case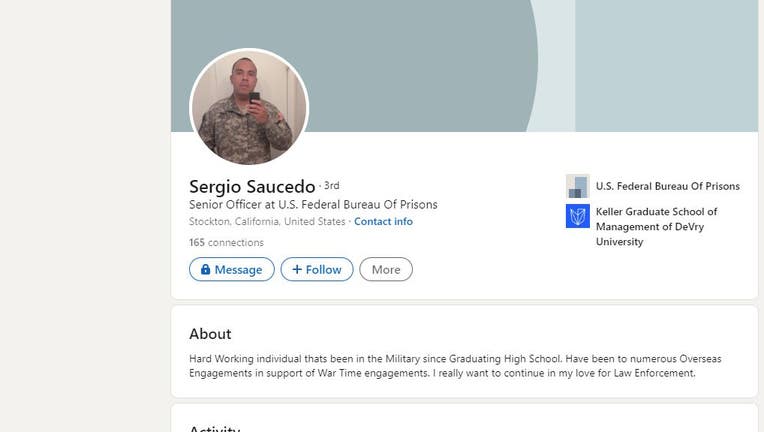 article
DUBLIN, Calif. - A woman has sued the federal Bureau of Prisons alleging a correctional officer at the all-women's Dublin prison greeting her by saying "welcome to hell" and then continued to sexually abuse her by forcing her to undress and watch her shower.
The woman, identified in her suit as C.C., filed the complaint against the prison system as well as the individual officer, Sergio Saucedo of Stockton, in U.S. District Court of Northern California on Friday. 
She is being represented by San Diego attorney Jessica Pride, who has filed five sex abuse cases against officers at the Federal Correctional Institute at Dublin and plans to file 10 more by August for a total of 15. 
It's expected that there will be an even bigger wave of similar suits filed against the BOP this summer as dozens of women have reported being abused by officers at FCI Dublin, where five officers, including the warden, have been charged, four of whom so far have been convicted. 
Despite being incarcerated at FCI Dublin, C.C. felt she must bring to light what happened to her, Pride said. But it hasn't been easy. 
"She has suffered retaliation every day," Pride told KTVU on Tuesday. "But she can't back down. She refuses to be silenced. She knows she needs to use her voice." 
C.C. alleged that on May 14, 2021 – her first day in prison – Saucedo addressed all the newcomers by saying: "Welcome to hell, ladies. I am here to make your life a living hell, and to treat you like the pieces of shit you are." 
C.C. was then placed in a cell alone, "leaving her a prime target" for Saucedo's abuse, the suit claims. 
Over the next week, Saucedo "relentlessly harassed" C.C. while she was "trapped in her cell," the suit alleges.
Saucedo made sexual comments about C.C.'s body and forced her to undress for him multiple times, according to the suit. He also made comments about how she shaved her pubic hair, commented how skinny she was for "an old lady" and threatened that he could enter her room at any time, the suit states. 
At some point, she was placed in COVID quarantine, where Saucedo would watch her shower, ripping open the curtain to see her, the suit states. Saucedo made similar moves on at least two other women, according to the suit.  Pride will be filing suits on their behalf as well. 
C.C. was terrified.
But Saucedo told her: "No one will believe you because you are a felon and I am a federal agent," the suit states. 
Saucedo has no public phone number or email listed and a text to his union representative went unreturned. He has no attorney on record. 
The BOP also didn't immediately respond to the suit or Saucedo's work status. 
His LinkedIn account shows that he is still employed by FCI Dublin and has served in the US Army. His online resume also shows he is a business graduate of DeVry University. 
Saucedo has not been charged with any crime. 
But last May, KTVU learned that Saucedo was one of 25 correctional officers placed on leave amidst a wide range of abuse allegations including inappropriate sex, use of drugs and falsifying records. 
He was seen one day at the federal courthouse in Oakland while attending the trial of former Warden Ray Garcia, whom a jury convicted him in December 2022 of eight counts of sex abuse and lying to the FBI. He declined comment then as well. 
Pride said she had originally intended to wait to file her civil suit once Saucedo and several other officers she's suing were criminal charged. But she said she couldn't wait any longer. Her clients wanted to start moving forward with their cases. 
KTVU's Freddy Brewster contributed to this report.
Lisa Fernandez is a reporter for KTVU. Email Lisa at lisa.fernandez@fox.com or call her at 510-874-0139. Or follow her on Twitter @ljfernandez