Winter rains bring "superbloom" to Bay Area parks
San Jose, CA - This winter's record rainfall is creating another unique show from Mother Nature: A superbloom!   
That means extra color from wildflowers on our Bay Area hills and trails.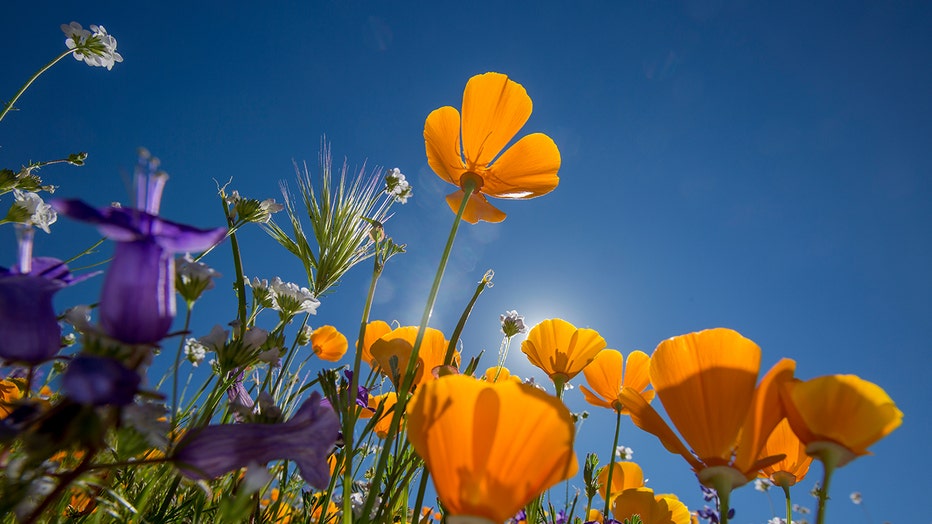 California poppies and Canterbury bells bloom at Diamond Valley Lake, near Hemet, California. (Credit: David McNew/Getty Images)
"We definitely saw the Cream Cups. We saw the Douglas Stichwort, we saw the Tomcat Clover,' said hiker Hugh Huynh, who came out with his family to experience the superbloom.   
As Huynh read through this wildflower brochure from Santa Clara County parks he believes he saw a vast majority of the flowers that exist in Santa Teresa County Park. All during a three-hour hike today.
"You don't have to look that far. Just right off the trail you have got a wide variety of wildflowers. You have got concentrations of certain ones. You also have a lot of variety," Huynh said. 
Huynh and his family are not alone in making an extra effort to get out on a hike. Plenty of people have heard about the superbloom and don't want to miss out on all of the plentiful, bright, and easy-to-find flowers alongside the trails.  
MORE: In Bloom: Where and when to see the most colorful native wildflowers along GGNRA trails
"I would say about 75% of the flowers on here you can see them in various stages of bloom, and you can see as you walk along the trail some are just budding and others are in full bloom," Huynh added.
Joella Kermit, an avid hiker among the Bay Area hills, says she knows you don't need to have big rainfall to enjoy Mother Nature, but she and her family did not want to miss out on the superbloom this year. "We are here to see wildflowers," Kermit said. "We have had so much great rain and the grass is so tall. The flowers are going to be fabulous out here," Kermit said. 
The superbloom is just getting started. As temperatures continue to warm up it could last through May. 
Below is a guide to Santa Clara County Parks' wildflowers and trails.