Wildflowers in bloom throughout Golden Gate National Recreation Area
article
SAN FRANCISCO - This winter's endless conveyor belt of atmospheric rivers seems to have settled down. With spring in the air, hopefully this means warmer weather, drying out a bit, and getting outdoors to see what is in bloom. 
We spoke to some experts from Golden Gate National Parks Conservancy, who have everything you need to know to get out and go see which native flower species are blooming right now. Martine Glaros, seed collector and nursery assistant and Clint Josol, nursery technician, both with Marin Headlands Native Plant Nursery, helped compile this useful and colorful guide for us. 
SEE ALSO: Winter rains bring "superbloom" to Bay Area parks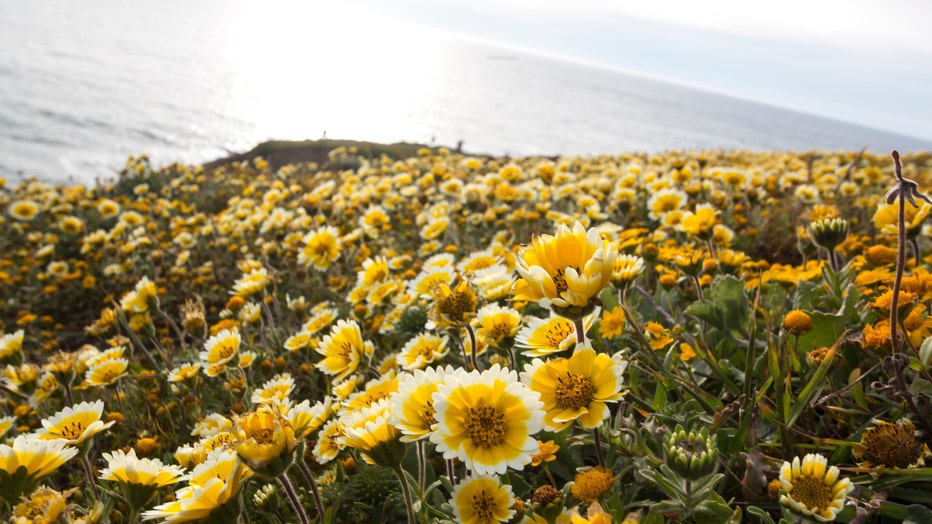 Mori Point. Credit Ryan Curran White/ National Parks Conservancy. 
What you'll see: 
Beach Strawberry (Fragaria chiloensis)
Checkerbloom (Sidalcea malviflora)
Butter cups (Ranunculus californicus)
Coastal tidy tips (layia platyglossa)
California gold fields (Lasthenia californica)
Head to Mori Point, just south of Pacifica, "An excellent and iconic place to view wild flower blooms in the Golden Gate National Recreation Area," according to our experts.  
The checkerbloom and beach strawberry appear to be at peak-bloom now and will continue to bloom through spring. The other three species are coming up. As for hiking Mori Point, the ease of the trail is moderate. Our experts say most of the climbing occurs once you get to the ridge. 
"There are multiple, bright yellow species that look quite charismatic when clustered together including, butter cups with their shiny petals, California gold fields with their rich color, and costal tidy tips with their compelling, white-tipped petals." Our GGNRA team says this makes for a nice pastel pallette when mixed with the clusters of pink and white from the checkerbloom and beach strawberry. How dreamy is that?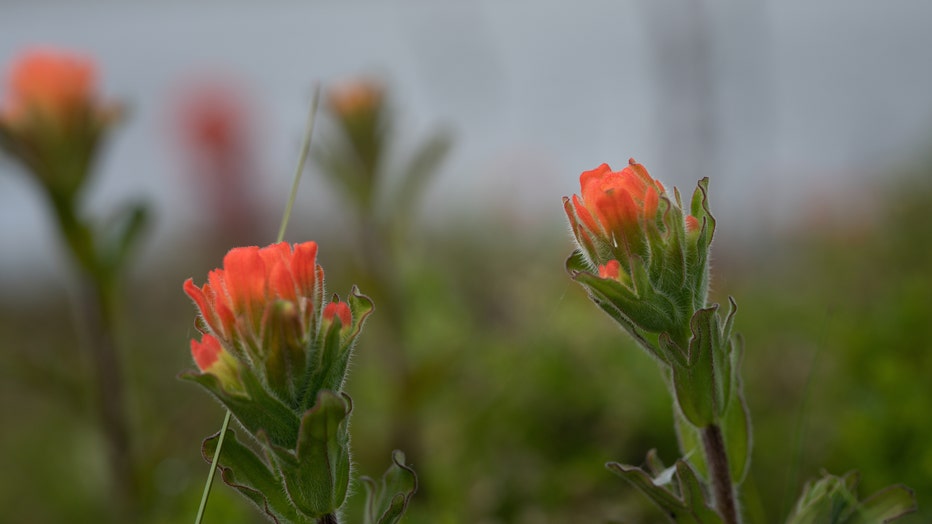 Crissy Field. Credit: Ryan Curran White/ Parks Conservancy. 
What you'll see: 
Paintbrush (Castilleja subinclusa)
Checkerbloom (Sidalcea malviflora)
Blue dicks (Dipterostemon capitatus)
California poppy (Eschscholzia californica)
We're told everything along the SCA trail is currently in bloom and will continue through April. To access this trail, you'll want to park at the Headlands parking lot off of Conzoleman Road at the base of the Golden Gate Bridge. As for the trail itself, expect a moderate to difficult hike that includes moderately steep switch backs. If you're feeling overwhelmed, don't worry, you can see plenty of flowers early on in the hike if you need to turn around. 
"Paintbrush is a distinctive and well-loved plant with its long, red bracts and bright yellow flowers. Checkerbloom is a low growing herbaceous plant with beautiful pink flowers that can range anywhere from deep magenta to barely a blush of pink." Both plants host a variety of butterflies and moths. "Blue dicks with their purple-ish, densely clustered flower heads and leaf-less stems are a sure sign of spring in the GGNRA. One section of the trail also has a nice population of California poppies." 
Side note: this trail also includes "epic views" of the Golden Gate Bridge and Angel Island.
National Park Service. Credit: Will Elder/NPS 
What you'll see: 
California poppy (Eschscholzia californica)
The California poppy has been the Golden State's state flower for 120 years. The California Department of Fish & Wildlife theorizes it may have been the visual representation of the "fields of gold" sought during the gold rush. It's also the subject of many California and Bay Area 'super bloom' posts you've likely seen circulating online and on social media feeds. Our team of experts tells us different populations behave differently depending on the genetics of the population and the microclimate. "In general, poppies have a long bloom period and will last another few months." No urgency on this super bloom, but it's a good time to remind while seeking beauty, do not touch or pick the flowers. Only take photos. 
The Tennessee Valley hike to the beach is moderate at a few miles long, but is pretty much flat the entire time. Once you reach the beach, you'll see two large hills sloping to the north. They are full of wildflowers, but the poppies are most visible. Look for "cheery, orange clusters sprinkling the slopes." 
What you'll see: 
Shooting star (Primula meadia)
Go now! Right now, ASAP! If you want to behold these beauties, you'd better follow that bit of urgent advice from our seed collector and nursery technician. Be advised that the Morning Star Trail parking lot fills up fast.
"Shortly after turning right on the Alta Trail, you'll see shooting stars specking the bluff sides. These flowers are small, but epic with their bright pink petals and dramatic form that's reminiscent of a flying comet." These are relatively early bloomers that typically begin to seed in April. Act fast, or you'll have to wait until next year to catch these in bloom. Be advised there are stairs involved on this quite steep incline. 
What you'll see: 
Blue-eyed grass (Sisyrinchium bellum)
Sun cups (Camissonia bistorta)
Morning glory (Calystegia purpurata)
Wooly desert parsley (Lomatium dasycarpum)
Here is an interesting juxtaposition of how something beautiful can coexist next to a relic of the Cold War. This Marin Headlands site within the GGNRA is where Nike anti-aircraft missiles were stationed at Fort Barry. You can actually visit this site, the "most fully restored Nike missile site in the country," according to the National Park Service. 
Getting back to nature's beauty, you've got some time to see the aforementioned listed species through the month of April and our nursery experts tell us there are likely more species to come in May. Pro-tip: There is a parking lot at the intersection of Rathbone and Conzoleman roads. This is an easy, very short walk from the parking lot to the meadow with lovely blue-eyed grass blooms. We're told petals can range from lavender to a deeper blue. The same meadow has "scattered smidgens of bright, yellow sun cups, pastel morning glories and yellow, fuzzy wooly desert parsley."  
What you'll see: 
California poppy (Eschscholzia californica)
Cobweb thistle (Cirsium occidentale)
California barbary (Berberis pinnata)
Paintbrush (Castilleja subinclusa)
Checkerbloom (Sidalcea malviflora)
Buttercups (Ranunculus californicus)
Blue-eyed grass (Sisyrinchium bellum)
You'll want to head to this trail just over 1,000 feet above Rodeo Beach soon, if you want to catch the checkerbloom, which will be ending in a few weeks. The other species will bloom through the spring. Be advised this trail is difficult and uphill the entire way. There are multiple steep inclines, stairs and switchbacks. Use the Rodeo Beach parking lot and if you can make the trek, it's worth it to take in this epic view of the Bay, the Golden Gate Bridge, all of Tennessee Valley, and the Pacific to the horizon. "The entire trailside is speckled with brightly colored pinks, blues, reds, and yellows and now is the perfect time to see them." If you make it to the top of the hill, the population of blooming irises is your reward. Carpe diem, indeed.  
What you'll see: 
Chamisso bush lupine (Lupinus chamissonis)
Beach strawberry (Fragaria chiloensis)
Beach evening primrose (Camissoniopsis cheiranthifolia)
Pink sea thrift (Armeria maritima)
Seaside daisy (Erigeron glaucus)
San Franciscans and its visitors are lucky to have Crissy Field. This site has undergone an amazing transformation over the last 20 years and has been restored to its natural beauty. "The Presido did such a great job maintaining and restoring this stretch of dunes bordering the Bay," the GGNRA team says. 
This is also an easy trail to hike, because it's short and flat. It's not the most smoothly paved, but it's still accessible. Park anywhere where it's easy to get access to Crissy Field Beach. The flowers at this site will bloom through April. The pink sea thrift (cute plant with a spherical bob of pink flowers) and seaside daisy (delightful aster with purple fringe petals and a popping yellow center) will be in bloom later and through the summer. 
Chamisso bush lupine has shimmering, silvery leaves, sweet purple flowers that are "buzzing with bees." Also look for the dense clusters of beach strawberry blooms. These have, "small but charismatic white flowers." Beach evening primrose can be spotted from across the road with bright yellow flowers.
MORE: California's super bloom visible from space
What you'll see: 
Star lilly (Toxicoscordion fremontii)
Douglas iris (Iris douglasiana)
Narrow-leaf mules ears (Wyethia angustifolia)
Silver bush-lupine (Lupinus albifrons)
Blue dicks (Dipterostemon capitatus)
Once you're on the Dipsea trails, hike west on the top of the bluff of the Moors. On the ascent to the sun-exposed bluffs, there's a whole host of wildflowers to see. The flowers are in bloom through the next few months of spring. 
The Dipsea hike is difficult with some steep sections. It stretches from Mill Valley to Stinson Beach and passes through Muir Woods. The Parks Conservancy says the trail is for "hikers looking for a challenge."  You can park at the gate just west of the Dipsea that heads in the steep ravine trail and crosses it. 
This hike features the iconic Douglas iris, charismatic purple flower included. Narrow-leaf mules ears are described as a cheery, chunky, sunflower-like bloom. The silver bush-lupine is true to its name and emits a metallic sheen. An important side note on this final flower: It is "precious" to the GGNRA because it is the host plant for the Mission blue butterfly; an endangered species endemic to this area. 
SEE ALSO: Killer whales' attack on two gray whales captured in stunning video out of Monterey Bay
So there you have it, the lowdown of native flowers beyond the 'super bloom'. You've got everything you need; what to see, where to go and tips on how to access nature's beauty this spring. Enjoy your outdoor adventure! 
Special thanks to Martine Glaros and Clint Josol from The Golden Gate National Parks Conservancy for compiling this information. The Parks Conservancy has cultivated over 300 unique species of plants native to the Golden Gate National Parks in its native plant nurseries to preserve and restore park natural areas.