Wipeout: Huge waves crash into crowd at Hawaii surf competition
HONOLULU - Massive waves crashed into a group of onlookers at a famous "big wave" surf event in Hawaii on Friday. 
In the video, uploaded by Honolulu Ocean Safety on Jan. 22, a wave in Hawaii's Waimea Bay pushed onshore into a crowd that was catching a glimpse of the spectacle. The huge waves then caused a large group of people to fall over, and lifeguards rushed out to help those who needed assistance. 
"Onlookers got a touch of what can happen if you don't back up and listen to the lifeguards. Mother Nature did not disappoint and the surfers put on a show!" the agency wrote in a social media post.
Dubbed the "Super Bowl of Surfing," the Eddie Aikau Big Wave Invitational is one of the world's most prestigious surf events and returned for the first time in seven years with huge waves and gigantic swell.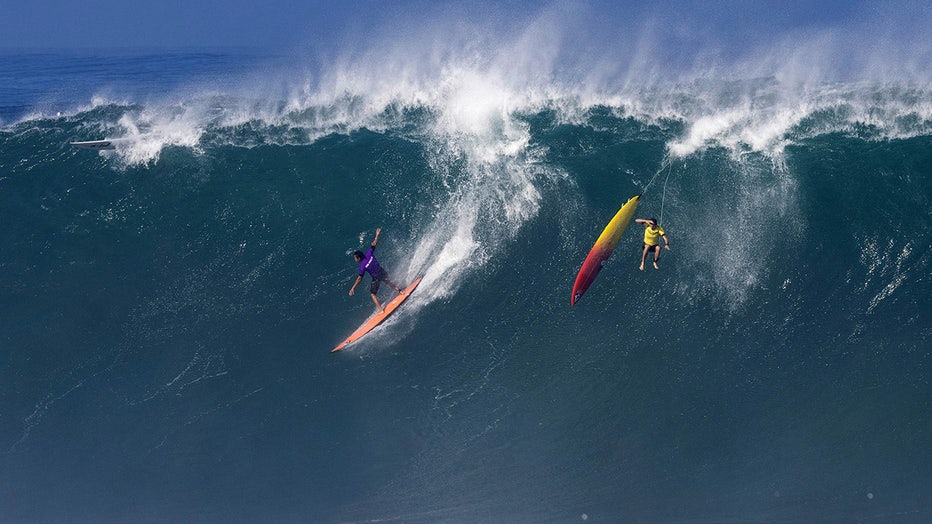 US surfer Eli Olsen rides a wave as Hawaiian surfer Jake Maki gets wiped out during The Eddie Aikau Big Wave Invitational surfing contest on January 22, 2023, at Waimea Bay on the North Shore of Oahu in Hawaii. (Photo by BRIAN BIELMANN/AFP via Getty
This year female surfers competed alongside the men for the first time in the invitational's 39-year history.
The event is a one-day contest held in Waimea Bay on Oahu's North Shore only when the surf is consistently large enough during the winter big-wave surfing season from mid-December through mid-March. The wind, the tides and the direction of the swell also have to be just right.
Organizer Clyde Aikau told the media on Friday that he was expecting waves to reach 25 to 30 feet by Hawaii measurements or 50 to 60 feet on the national scale.
"Large enough" means 20 feet by Hawaii measurements. Before this year, conditions have only aligned for it to be held nine times since the initial competition in 1984.
On Sunday, the sets were already big, with the swell expected to grow as the day went on, and an estimated 60,000 people packed the beaches and surrounding area to catch a glimpse of the spectacle. One huge wave swept onto the beach and hit a family, sweeping a baby under a house, but the child was not injured, Hawaii News Now reported.
"We've been looking at 30-foot to 40-foot wave faces for the most part, (and) the biggest waves of the day are going to be in excess of 45 feet. By local scale, they'll call those waves 25 feet — and we've seen a couple sets like that already," Kevin Wallis, director of forecasting at Surfline.com, said by phone Sunday morning.
"It's amazing, it's really cool to see and it's such a rare and prestigious event, and there's a lot of energy and a lot of buzz around, for sure," he said.
Last month, veteran Brazilian surfer Marcio Freire died while surfing giant waves in Nazaré — another popular surfing location located on the central coast of Portugal. The destination was made popular in the HBO series "100 Foot Wave." 
RELATED: Veteran surfer Marcio Freire dies riding big waves in Nazaré, Portugal
The 47-year-old fell while surfing the infamous Atlantic waves near Praia do Norte, a beach in Nazaré. He was rescued by a team of lifeguards but later pronounced dead at the scene, according to the Port Authority of Nazaré.
"The Portuguese Surf Federation mourns the tragic death of Brazilian surfer Márcio Freire in Nazaré. Our thoughts are with the bereaved family and the big wave surf community," the federation wrote in a statement on Facebook.
This story was reported from Los Angeles. The Associated Press and Storyful contributed.