Yosemite's Horsetail Fall dry, "firefall" unlikely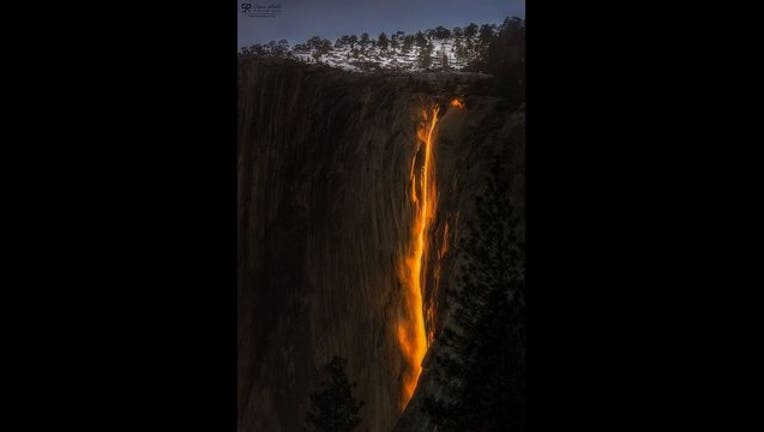 article
YOSEMITE NATIONAL PARK, Calif. - The thousands of amateur and professional photographers who usually flock to Yosemite National Park every February to capture the setting sun hit Horsetail Fall to create a stunning "firefall," are likely to be disappointed. 
Park officials say the fall is dry with no rain in the forecast. 
The "firefall" effect happens during the second half of February when there is a clear sky and enough snow to see the sunset glow on the 1,570-foot fall down the east face of El Capitan.
Earlier this month, state water monitors said that 44 percent of the state is now considered to be in a moderate drought. When state officials measured the snowpack on Feb. 1, it stood at less than a third of normal for the date. 
"It's not nearly where we'd like to be," said Frank Gehrke, chief of the California Cooperative Snow Surveys Program for the Department of Water Resources.
That's bad news for park spectators waiting for Horsetail Fall to flow over the eastern edge of El Capitan in Yosemite Valley and light up the night. 
Watching the "firefall" had become so popular in recent years that this year, park officials issued permits for vehicles headed to the viewing area. In past years, major traffic jams with more than a thousand vehicles in the area created significant safety problems between pedestrians and motorists, park officials said. 
Starting tomorrow and running through Feb. 26, Northside Drive between Yosemite Valley Lodge and El Capitan Crossover will be closed to unpermitted private cars and parking, park officials said. 
Visitors will be able to enter the viewing area to see Horsetail Fall by walking from El Capitan Meadow or the Yosemite Falls parking area, taking a naturalist-guided tour, or picking up a permit to park inside the "firefall" event zone. 
The park issued 250 free permits through online reservations. As of last week, officials said few, if any, were left. Fifty permits will be issued on a first-come, first-served basis daily at The Ansel Adams Gallery at 9 a.m.
The Associated Press contributed to this report.