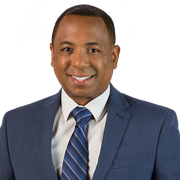 Since living in Sacramento many years ago and making frequent visits to the Bay Area, I've looked forward to one day making the area my home. 
It became reality in January of 2018 when not only was I able to move to the Bay Area, but also given the opportunity to work as an Anchor/Reporter for such a well-respected organization like KTVU. I look forward to the work that is ahead of me as I tell the stories that impact the people of the Bay Area through my work at KTVU.
Prior to relocating to the area, l lived in Norfolk-Virginia Beach where I worked as the Morning and Noon Anchor at WVEC/13News Now. In addition to anchoring, I often ventured into the field to cover stories that connected to the community. 
Among the stories that I've covered is the tornado that stuck the town of Waverly, located 55 miles northwest of Norfolk, in 2016. Three people, including a child, were among the fatalities while countless properties and left in ruin. Also in 2016, I traveled to Cuba to visit the controversial Navy base at Guantanamo Bay Naval Base, which is well-known for the detention center that houses suspected terrorist.
Before Norfolk-Virginia Beach, I worked as a reporter/fill-in anchor at WTSP in Bay area of the east coast, Tampa/Saint Petersburg. During that time, I reported from what is still probably the most bizarre stories that I have ever covered. In 2013, a man was sleeping in his bed when a sinkhole opened up under his bed and swallowed him. His body was never recovered. In addition, I reported from the courthouse in Sanford during the trial of George Zimmerman, the man who shot and killed Trayvon Martin.
I've also reported in Ft. Myers/Naples but prior to that I worked as a news producer for many years at stations in Orlando, Sacramento and started at WSVN in Miami. 
Although you won't hear an accent, I was actually born in St. Andrew, Jamaica located just outside of the capitol of Kingston and just before the age of 10, my parents brought me and my three sisters to Miami where I grew up. 
The latest from Andre Senior