AP Source: Kevin Durant meets with Warriors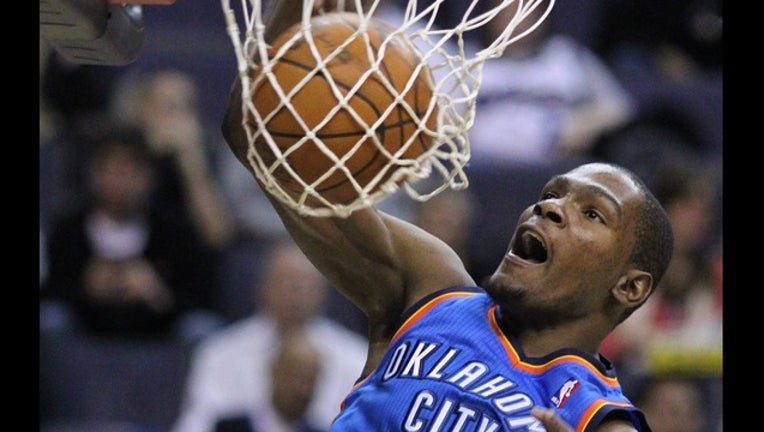 article
OKLAHOMA CITY (AP) — The Golden State Warriors want to lure Kevin Durant and put even more offensive firepower on the floor.
Durant, the top prize in this year's free-agent class, met with the Warriors on Friday in The Hamptons. A person close to the situation said Warriors owner Joe Lacob, general manager Bob Myers, coach Steve Kerr and All-Stars Stephen Curry and Klay Thompson were present. The person spoke on condition of anonymity because he was not authorized to publicly discuss the matter.
Media reports say Durant, a four-time scoring champion and 2014 MVP with the Oklahoma City Thunder, is scheduled to meet with the Miami Heat, Boston Celtics, San Antonio Spurs and Los Angeles Clippers in the coming days.
It makes sense for the Warriors to try to add Durant — he averaged 30 points per game against them in this year's Western Conference finals and torched them for a career-high 54 points in 2014.
Durant could make a record-setting franchise even better. Golden State set the league record with 73 wins and led the league in scoring. The Warriors fell just short of a repeat NBA title, however, losing to Cleveland in seven games.
Adding Durant certainly would improve their chances of getting back to the top next year while dealing a blow to the Thunder, one of their top rivals in the West. Oklahoma City had a 3-1 lead on the Warriors in the conference finals this season before losing the next three games. Durant has had to carry much of the scoring load for the Thunder over the years, but having Curry and Thompson next to him would open up space to operate that he hasn't had during his tenure in Oklahoma City.
Durant led the Thunder to the NBA Finals in 2012, and to the Western Conference finals in four of the past six years — and he's only 27. He recovered from a broken bone in his right foot that cost him much of last season to post one of the best years of his career this season— 28.2 points, 8.2 rebounds and 5.0 assists per game.
Durant met with Thunder general manager Sam Presti on Thursday, the eve of free agency. If he stays put, Oklahoma City appears to have the tools to make a move in the West. He'd still have dynamic point guard Russell Westbrook by his side, and Steven Adams and Enes Kanter are emerging young stars. The Thunder made a draft night trade and sent forward Serge Ibaka to Orlando for guard Victor Oladipo, forward Ersan Ilyasova and draft pick Domantas Sabonis, improving the team's depth and shoring up a question mark at shooting guard.
Durant can maximize his earning potential by signing a deal with the Thunder that allows him to become a free agent again next year, then signing a longer deal when the salary cap takes another jump.
___
AP Sports Writer Janie McCauley in San Francisco contributed to this report.