Curry treated for dehydration after Game 5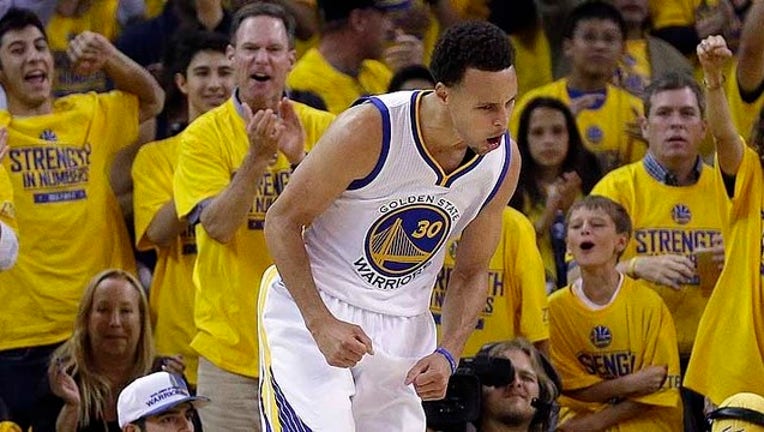 article
OAKLAND, Calif. (AP) — Stephen Curry received treatment for dehydration following Game 5 of the NBA Finals, a little worn out after carrying Golden State to the brink of its first championship in 40 years.
The Warriors will need him at his best Tuesday, knowing what's coming from LeBron James in Cleveland.
"They're going to come out and give it their best punch," Warriors guard Klay Thompson said.
The Warriors will have two chances to win the series after taking a 3-2 lead with their 104-91 victory Sunday. They would host Game 7, if necessary, on Friday.
"We don't want to come back here," Thompson said. "As much as we'd love to win it in front of our fans, we really want to finish it in Cleveland."
James had 40 points, 14 rebounds and 11 assists Sunday, his second triple-double in the series, and was asked how he copes with such a performance not resulting in victory.
"Well, you cope with it by understanding it's just one game and looking at the opportunity we have on Tuesday to force a Game 7," he said. "Obviously, for myself, I want to do whatever it takes to help our team win, and I haven't been able to do that the last two. So hopefully I can do a better job coming in on Tuesday. We all as a unit can do a better job, and we'll be fine."
Some things from Game 5 to watch when the series returns to Cleveland:
MVP! MVP!: After Curry's dismal Game 2 and rough start to Game 3, he has rediscovered his shot. His 37-point performance Sunday including seven 3-pointers, the second time in the series he's fallen one shy of Ray Allen's NBA Finals record.
"I just think sooner or later, Steph's going to get going," Warriors coach Steve Kerr said. "He had a tough first couple of games. He got going at the end of Game 3 in the fourth quarter, and that's all it takes. Steph makes a couple shots, he feels like he's got it rolling, and he's been great ever since."
FANTASTIC FINISHES: The Warriors, with their superior depth, have largely dominated the fourth quarters of the last three games, outscoring the Cavaliers by 12, 15 and seven points. Whether the problem has been fatigue or poor execution, the Cavaliers know they have to clean that up in Cleveland.
"We gave up 31 points in the fourth," James said of Sunday's game. "Some of them were free throws, but a lot of them were them just breaking us down. So we've got to do a better job of that."
LEGEND OF LEBRON: James is averaging 36.6 points, 12.4 rebounds and 8.8 assists in the series with two triple-doubles. He's one shy of tying the record of four 40-point games in one finals, set by Jerry West in 1969 and Michael Jordan in 1993, and has been so good that the Warriors don't even pretend they might stop him.
"He's been there for years now, so you're not going to shut him down. But if you continue to make him work hard for each and every bucket that he gets, it takes a toll on his body," said Golden State's Draymond Green, the runner-up for Defensive Player of the Year.
"If he gets 40, he gets 40. Like I said, that's why he's LeBron James. You can go throw a triple-team at him, and he'll probably still get 40, but as long as you make him work for those 40, then you've got to be satisfied with what you do."
HACK-AN-IGGY: Though Cleveland coach David Blatt has said he is against the Hack-a-Shaq strategy of intentionally fouling away from the ball, Andre Iguodala wasn't surprised when the Cavaliers used it against him down the stretch.
Iguodala was just 2 for 11 from the free-throw line in Game 5 and a woeful 6 for 18 (33.3 percent) in the finals, so he figures he may see more of the strategy the remainder of the series.
"So got a day tomorrow when we get to Cleveland to prepare for it, and it's a challenge," Iguodala said. "Just like any other challenge, you want to meet it head on and you want to be ready for it."