How to sound like an NFL fan while watching the Super Bowl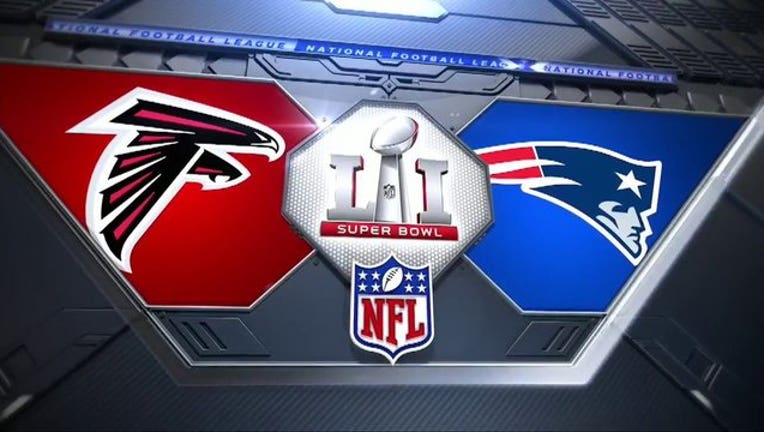 article
If you're among the millions of people who watch precisely one NFL game each year, yet want to sound like a real football fan during Sunday's Super Bowl, The Associated Press has you covered.
This guide includes talking points for some of the biggest storylines and critical characters that everyone will be watching and discussing when the New England Patriots face the Atlanta Falcons in Super Bowl 51 in Houston:
TOM BRADY: Brady is New England's 39-year-old quarterback, their superstar with the cover-boy looks and the Brazilian supermodel wife. He is certain to be the most yapped-about player in the game - and not merely because he is trying to become the first starting QB to win a fifth Super Bowl ring and first player at any position to win a fourth Super Bowl MVP award. As he throws passes to Chris Hogan (whose college lacrosse days are worth knowing about) or hands off to one of three running backs who could be important, you'll hear plenty about Brady's four-game suspension at the start of this season for what became known as ...
'DEFLATEGATE': The NFL determined the Patriots intentionally underinflated footballs used during their AFC championship game victory two years ago and said Brady had a role. Eventually, after a federal court sided with the league, Brady served his punishment ; the NFL fined the Patriots $1 million and took away two draft picks - all of which is why if New England beats Atlanta, all eyes will be on ...
ROGER GOODELL: The commissioner of the NFL could be put in the awkward position of sharing a postgame stage for the trophy ceremony with Patriots owner Robert Kraft and Brady. Goodell avoided going to Foxborough, Massachusetts, for either of New England's home playoff games last month (he attended two games in Atlanta) and was mocked by Patriots fans' chants of "Where is Roger?" This wasn't the first time Goodell punished the Patriots for running afoul of league rules while they've been coached by ...
BILL BELICHICK: Considered by some the greatest coach in NFL history, branded as a cheater by others, Belichick can break the record for most Super Bowl championships for a coach by collecting No. 5. A flop with the Cleveland Browns in the early 1990s, Belichick then infamously resigned one day after getting the top job with the New York Jets in 2000, heading instead to New England. Long before "Deflategate," there was "Spygate," when the Patriots videotaped signals being sent in by Jets coaches during a 2007 game, earning a $500,000 fine for Belichick. While his offense flourishes thanks to Brady, Belichick is a defensive mastermind, a trait that comes in handy against ...
MATT RYAN: Known as "Matty Ice" for his cool demeanor, Atlanta's quarterback is coming off one of the best seasons in NFL history, including 38 touchdown passes and seven interceptions, making him a favorite to win the MVP award Saturday night. Ryan threw TDs to a record 13 receivers as part of a versatile ...
FALCONS OFFENSE: Orchestrated by offensive coordinator Kyle Shanahan - expected to be hired soon to coach the San Francisco 49ers, he is the son of Mike Shanahan, who led the Denver Broncos to two Super Bowl trophies - Atlanta led the NFL by averaging 33.8 points. Receiver Julio Jones can score whenever he touches the ball, Mohamed Sanu is talented, too (and played QB in college, so look for a trick play with him throwing), and Taylor Gabriel is a speedster. Running backs Devonta Freeman and Tevin Coleman gain yards on the ground and as pass-catchers. The Patriots allowed a league-low 15.6 points per game. In six previous Super Bowls between the No. 1 offense and No. 1 defense , the defense went 5-1. Another trend: Six previous Belichick-Brady Super Bowls (New England is 4-2) were all decided by four points or fewer, so a key role could be played by ...
THE KICKERS: It's been more than 25 years since a Super Bowl extra point was missed, but don't head to the fridge when New England's Stephen Gostkowski and Atlanta's Matt Bryant line up to kick. While both have had successful careers - although Gostkowski did miss three field-goal tries and two extra points in the first seven games this season - kickers all around the NFL had trouble with extra points in 2016, the second year with those attempts taken from 33 yards away, instead of 20. In one week alone this season, 12 extra points were missed, four more than in all of 2014.
___
For more NFL coverage: http://www.pro32.ap.org and http://www.twitter.com/AP_NFL
___
Follow Howard Fendrich on Twitter at http://twitter.com/HowardFendrich