Kerr knows closing out Cavs won't be easy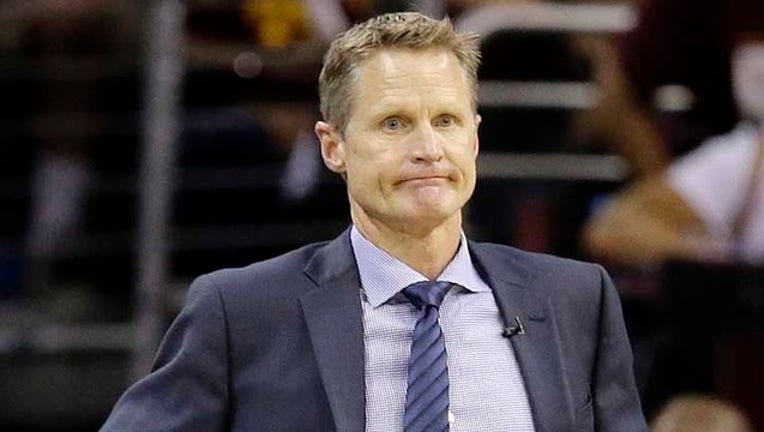 article
CLEVELAND (AP) — Steve Kerr's players had never been to the NBA Finals, so only he knows what the Golden State Warriors face in Game 6.
They can win a championship, the franchise's first since 1975, with a victory in Cleveland. But that means containing LeBron James, which the Warriors have hardly done, and beating a Cavaliers team that will be desperate to make the series go the distance.
Kerr won five titles as a player, so he's aware of how difficult it will be, even for what was the NBA's best team this season.
"There is a lot of emotion. You're right there on the cusp of something, but you still have to get the job done, and in this case we'll be on the road against a great team," Kerr said. "It's going to be hard. It's just the way it is."
The Warriors have won the last two games, controlling the fourth quarters against a Cavaliers team that is undermanned and it seems out of breath down the stretch.
James is having one of the best individual NBA Finals ever, but largely doing it alone. His teammates need to help him to send the series back to California for Game 7 on Friday.
"We have to come out swinging. That's the only thing we can do," guard J.R. Smith said. "We're in a dogfight and our backs are against the wall. The only way we will make it out is to fight."
Some things to watch in Game 6:
CURRY VS. DELLY: When Matthew Dellavedova helped force Stephen Curry into a 5-for-23 shooting performance in Game 2, then scored 20 points in Game 3, it appeared the underdog from Down Under could end up with an advantage against the NBA's MVP. But Curry outscored him 22-10 in Game 4, 37-5 in Game 5, and that plot no longer seems believable.
"You know, maybe Steph had an off game or two. That's basketball," Warriors forward Draymond Green said.
"I'm taking Steph in any matchup. So (Dellavedova) was hounding and physical, dirty, it's a fine line, whatever you want to call it. He do what he do, but I was going with Steph no matter what, and I'm still rolling with Steph no matter what."
RAIN ON THE PARADE: James' first NBA Finals ended with the San Antonio Spurs partying on the Cavaliers' home floor after completing a sweep in 2007. It's a scene James isn't interested in witnessing again.
"Well, we don't want them celebrating at all, no matter if it's on our home floor or their home floor," he said. "We've come this far, and we've been very good at home. We have to understand why we weren't good in Game 4. We had a lack of energy. We had a lack of effort in a lot of areas in Game 4, and we can't repeat that or they'll raise the trophy for sure."
DOMINANT DEFENSE: Despite James' astounding performances, the Warriors are clamping down with their defense. Cleveland shot just 39.5 percent from the field in Game 5, the third time this series the Warriors limited the Cavs to under 40 percent. Cleveland is shooting just 38.2 percent in the finals.
MORE MOZGOV? Timofey Mozgov went from best game of his career to the bench, scoring 28 points in Game 4 but playing 9 scoreless minutes in Game 5 when coach David Blatt pulled him in hopes of matching the Warriors' small lineup. Blatt indicated there would still be a role for the 7-foot-1 center, no matter what the Warriors do with their lineup.
"It's no disrespect to anyone, certainly not to Timo, who has done a great job for us. That's just the way that we played it tonight, and Timo will be back and he will not lose his way or lose his head just because he didn't play a lot tonight," Blatt said. "He'll be back playing like he always can, I'm sure, because he's got character and he doesn't listen to a lot of you guys."
WHO WINS?: Ask Shane Battier, an NBA champion when he played with James in Miami and now an analyst for ESPN who believes that the Cavs' short bench will finally catch up to them.
"But one thing I've learned playing with LeBron for three years, you never count the man out. You never count those games out. He's a once-in-a-generation type player," Battier said Monday during a conference call to promote the American Century Championship celebrity golf tournament in Lake Tahoe this July.
"If he scores 50 points, the Cavs will win. If he doesn't, I have the Golden State Warriors ending the series at six."