James Harden discusses taking 'unselfish' role with Clippers: 'I'm happy to be here'
LOS ANGELES - "The Beard" is officially here and could be the final ingredient the Los Angeles Clippers need to secure a championship run. That, along with sustained good health, that is. 
The Clippers introduced 10-time All-Star James Harden during a press conference Thursday afternoon from the Clippers' practice facility. After months of negotiations, the Philadelphia 76ers finally fulfilled Harden's request and sent him to Los Angeles.
"I'm happy I'm here," he told reporters Thursday.
For Harden, this is a full-circle moment for the LA native who attended Artesia High School in Lakewood. 
"Back in Artesia, I was trying to get out and take care of my family," he recalled. "To get another opportunity [to come to LA] is even more special."
PREVIOUS COVERAGE: James Harden to LA: Clippers land 10-time All-Star in blockbuster trade
Read more about what Harden had to say during the press conference below. 
Will this be a repeat of what happened in Brooklyn and Philly?
The Clippers have faced criticism about the Harden signing and fear it could go sour like his previous experiences in Brooklyn and Philadelphia. In both instances, Harden demanded to be traded. 
So, what went wrong in Philly?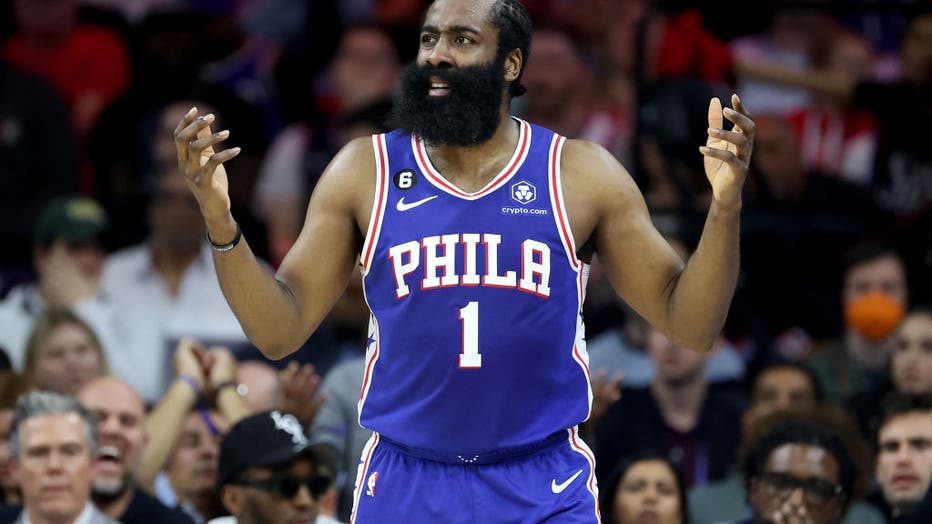 James Harden. (Photo by Tim Nwachukwu/Getty Images)
Harden spoke about taking a $26 million pay cut to make the team better. "I'm ball-dominant, I'm effective. Changing my role to do what it takes is sacrifice," he said. 
Apparently, it's a sacrifice that didn't go as planned. 
"I wanted to retire as a 76er. The front office had other plans. They didn't want me, it's that simple," he said. 
The 34-year-old said "it's going to take some time." However, his goal is to be great at both ends of the ball.
Why the Clippers?
Out of all the teams in the NBA, why did Harden fight to return to Los Angeles – not as a Laker, but as a Clipper?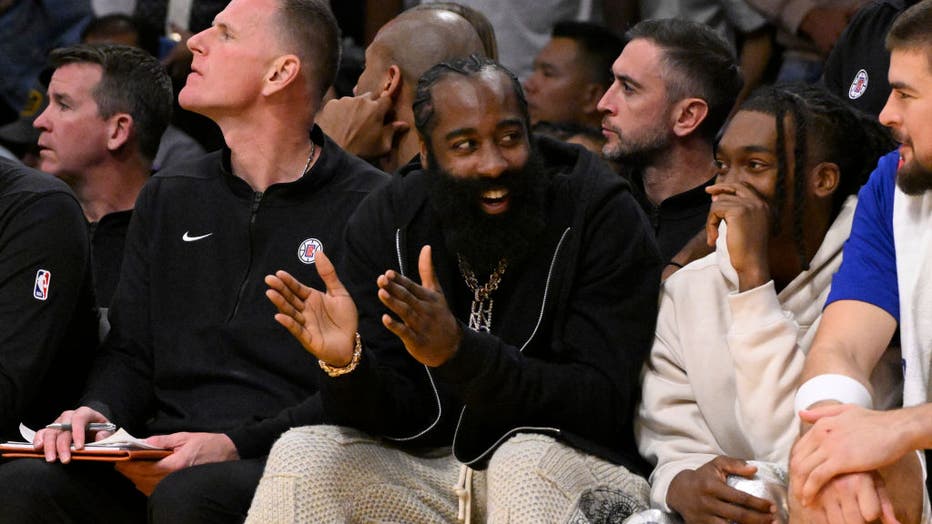 James Harden of the LA Clippers in street clothes on the bench in the first half of a NBA basketball game between the Los Angeles Lakers and the LA Clippers at Crypto.com Arena in Los Angeles on Wednesday, November 1, 2023. (Photo by Keith Birmingham
"Fit and opportunity," he said. 
Harden, who was named NBA MVP for the 2017-18 season, averaged 21 points, 10 assists and 6 rebounds in 58 games last season.  
The former Arizona State Sun Devil, who likes to have the ball in his hands, said the Clippers have "a lot of unselfish players." 
Harden, along with fellow All-Stars Paul George, Kawhi Leonard, and Russell Westbrook all grew up in the greater LA area. 
"It's special. That goes beyond us. We were those kids looking up to guys like Paul Pierce and Baron Davis and OGs," Harden said. "It's community on the court and overall.
He also compared his experiences with other franchises to "being on a leash" and that he "never had the opportunity to feel his best." 
Overall, the 2017-18 league MVP wants to feel empowered in his new chapter.
"I'm a creator on the court," he said.  "I am not a system player. I am system," Harden said, and is, "looking for someone to have that dialogue with me."
Teaming up with Russell Westbrook Again
This will be the third time Westbrook and Harden have been teammates in the NBA, having played together in Oklahoma City and Houston.
It's a complicated relationship that's had its ups and downs. But now, the two future Hall of Famers are focused on winning their first championship to cement their legacies.
"I've known Russ since Boys & Girls Club. Our relationship goes far beyond basketball. I feel like he has something to prove as well. What better way than to do it together in LA," Harden said. 
When will James Harden make his Clippers debut?
Harden said he is ready to make his debut under the brightest lights.  He aims to play Monday night at Madison Square Garden against the New York Knicks during the Clippers road trip to the East Coast.
The Clippers' next home game is scheduled for Sunday, Nov. 12 against Memphis.
Watch the full press conference below.