Raiders head into draft in need of receiver, pass rusher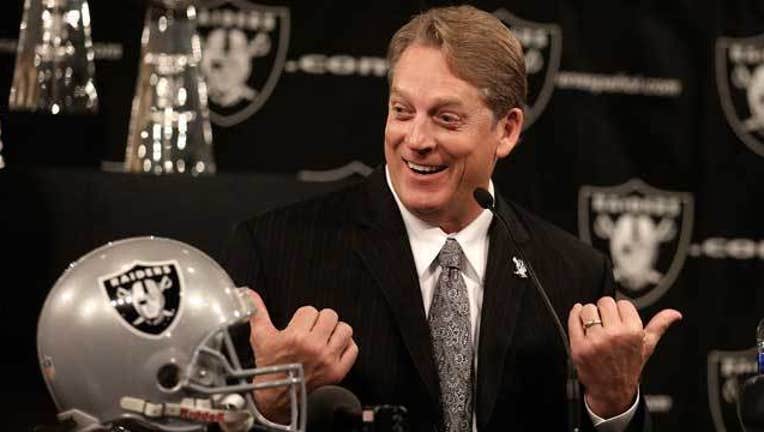 article
ALAMEDA, Calif. (AP) -- The two biggest needs for the Oakland Raiders heading into free agency remain the two most important going into the NFL draft.
So it makes sense that when general manager Reggie McKenzie makes his first pick Thursday when the Raiders have the fourth overall selection that the choice will either be a big-play receiver or pass rusher.
Both of those positions offer plenty of options at the top of the draft with Alabama's Amari Cooper and West Virginia's Kevin White considered the top receivers on the board and Southern California's Leonard Williams and Florida's Dante Fowler Jr. among the best pass rushers.
''We're just trying to get it right,'' McKenzie said. ''We want to get the player that we feel can best help our team and that's what we're going to do.''
After years of poor drafts, the Raiders started building their foundation last year with first-round linebacker Khalil Mack, who quickly became one of the top players at his position, and Derek Carr, who showed signs of being the player to end the revolving door at quarterback in Oakland.
Guard Gabe Jackson and cornerback TJ Carrie also were key contributors as rookies.
Much of the focus in free agency came in trying to strengthen the running game and run defense. But the Raiders did not add a pass rusher and the only receiver signed in free agency was Michael Crabtree, who is more of a possession player than big-play threat.
''The cupboard is not bare,'' new coach Jack Del Rio said. ''I think we had an excellent draft last year and we want to have an excellent draft this year going forward and continue to add to the nucleus of talent that we have here.''
Here are some things to watch for the Raiders at the draft:
COOPER OR WHITE: Despite the positives for Carr as a rookie, he only averaged 5.5 yards per attempt as he too often settled for short throws with no big-play receiver on the roster. Oakland hasn't had a receiver top 1,000 yards in a season since Randy Moss did it in 2005. Adding the polished Cooper or the more athletic White could solve that problem immediately.
''I get the question a lot throughout town, `Cooper or White?''' Carr said. ''My answer is, the best player available.''
TRADE WINDS: McKenzie has shown the willingness to trade down with his top pick to get extra selections. Two years ago, he dealt the third pick to Miami for No. 12 and a second-rounder. While his selections of cornerback DJ Hayden and T Menelik Watson haven't panned out yet, it doesn't mean McKenzie wouldn't be willing to do a similar deal again. McKenzie said he has already gotten calls from teams with interest in the fourth pick.
''I'm always open, but it has to be the right deal,'' McKenzie said. ''It always depends on the player who's there at your pick. There are a lot of factors that factor into that. But, yes, my phone line is always open.''
GUARDING CARR: With the decision to move Austin Howard from right guard to right tackle to compete with Watson for a starting spot, the Raiders have a hole on the offensive line. Donald Penn is set to start at left tackle, with Jackson at left guard and free agent acquisition Rodney Hudson at center. That leaves converted tackles Khalif Barnes and Matt McCants as the top internal options. The Raiders could look for their starting right guard on day two or three of the draft.
SAFETY DANCE: Even though the Raiders signed Nate Allen to start at one safety spot and retained Brandian Ross and Larry Asante, safety still could be a need spot with Charles Woodson turning 39 this year. Oakland tried to add restricted free agent Sean Richardson only to miss out when Green Bay matched the offer sheet.
RUN TO DAYLIGHT: Despite having Latavius Murray, Trent Richardson and Roy Helu Jr. at running back, the Raiders could make a play for one of the top backs in the draft on the second day, especially if a player such as Wisconsin's Melvin Gordon slips out of the first round.