1-on-1 with Buttigieg: Transportation secretary talks floods, flights and funding
OAKLAND, Calif. - U.S. Transportation Secretary Pete Buttigieg is back in Washington D.C. after a stop in San Francisco to deliver a federal grant for the Golden Gate Bridge. 
Buttigieg spoke to KTVU after his department announced $29.4 million in emergency relief funds to help California repair roads, bridges and highways damaged in our deluge of storms. 
The Federal Highway Administration is providing $10.2 million to Caltrans and $19.2 million to the National Park Service, U.S. Forest Service, and Bureau of Reclamation. 
"Part of what we try to do is to make sure we're partnering with the state, partnering with local authorities to get critical infrastructure back up and running as quick as possible," said Buttigieg. 
California may soon look to the federal government for help funding public transportation. State Sen. Scott Wiener sounded the alarm on the governor's proposed $2 billion budget cut to transit infrastructure as the state tries to close a deficit. Wiener points out federal COVID funding is running out, ridership has not recovered and without help, could result in service cuts. 
PREVIOUS COVERAGE: Buttigieg, Pelosi announce $400M for Golden Gate Bridge improvements
Buttigieg says talks are ongoing. 
"We have to make sure it's reliable, efficient, that it's comfortable clean and safe," said Buttigieg. "There are more steps we can take to do that, as we look at the changes to how people commute." 
It's been a rough stretch for air travel. This week, the DOT said it's starting a "rigorous and comprehensive" investigation into Southwest after the meltdown that impacted more than 2 million travelers. 
"If you go to Southwest, you try to get a refund or a reimbursement, and they're dragging their feet, or they're saying no, you can file a complaint with us and we'll follow up."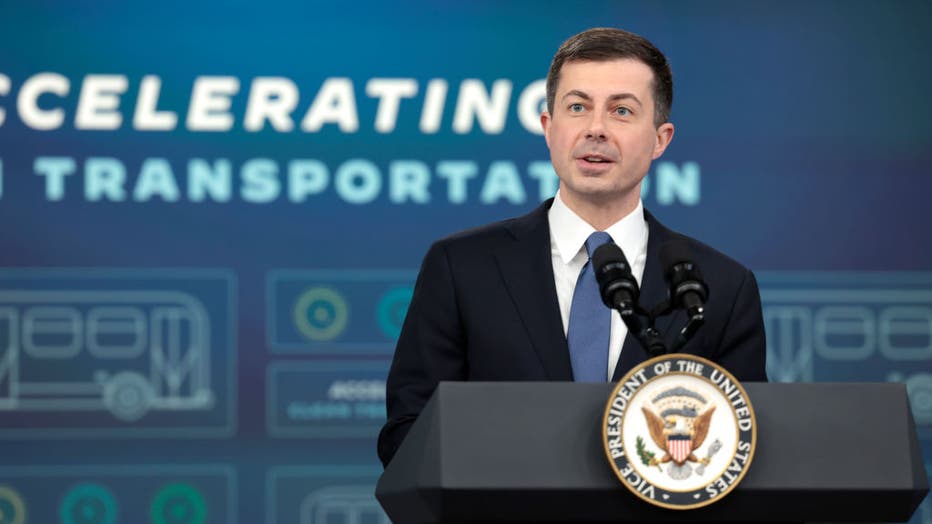 WASHINGTON, DC - MARCH 07: Secretary of the Department of Transportation Pete Buttigieg delivers remarks on new transportation initiatives at an event with U.S. Vice President Kamala Harris in the South Court Auditorium at Eisenhower Executive Office
In response to the FAA alert system outage that grounded flights earlier this month, Buttigieg said he's working with Congress on how to accelerate system updates. The House passed a bill Wednesday to create a task force to study the alert system that went down. 
"We have to make sure we continue updating our safety systems," he said.
Buttigieg has faced calls from both sides of the aisle for tougher oversight and steeper fines on airlines. He defends his agency's work and says he's working with state and federal officials to hold companies accountable. 
"This needs to be a matter of national policy, but I think the attorneys general could play an important role," said Buttigieg. "We're going to look at ways to join forces, to make sure passengers and customers are protected."