2 Investigates: Sheriff wants to extend jail healthcare contract, restart bid process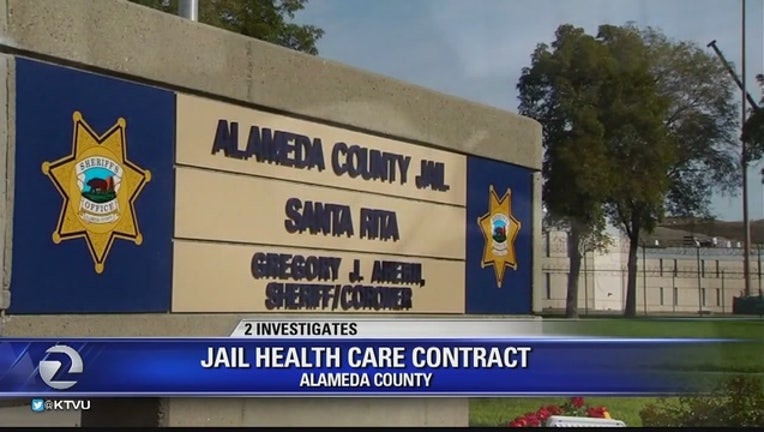 Alameda County Sheriff Greg Ahern is recommending that that county reject all the bids and start its search for a jail healthcare provider from scratch.
In letter submitted to the Board of Supervisors on Thursday, Ahern recommended that the county reissue its request for proposals (RFP) and extend the contract of its current, controversial healthcare provider, Corizon Correctional Health, for another six months.
The extension would increase Corizon's current contract by another $17.5 million. If approved, the total worth of the company's contract will grow to $282 million dollars since the start of its agreement, which stretches back to 2008. It's the largest public contract in Alameda County.
READ THE LETTER: Sheriff recommends extending Corizon contract, scrapping all bids
The Sheriff's recommendation comes on the heels of a letter from Auditor-Controller Steve Manning, stating that his office "found that ambiguities in the RFP process and deviations from standard County practices raise concerns about the results of the RFP process."
The Auditor-Controller began looking into the jail healthcare RFP after Corizon Correctional Health protested the County's recommendation to award the lucrative contract to its competitor California Forensic Medical Group, Inc. (CFMG), based in Monterey. Corizon's current contract was set to expire on June 30, 2016, but the County granted a one-month extension while it considered the appeal.
In its protest letter, Corizon argued that the County's process for evaluating and awarding contracts was "flawed" and that its CFMG did not meet minimum requirements to provide medical services under the contract. The company also argued that it was denied access to public documents and that the County was not responsive to questions as required during the RFP and appeal process.
"In bringing this appeal, Corizon again objects to the inherently unfair and pointless bid protest process that the County requires," the letter read.
Manning's office concluded that "no award should be made as a result of this competitive process, and that the County should exercise its authority under the RFP to reject all bids."
The Alameda County Board of Supervisors will consider the recommendation to scrap all the bids and extend Corizon's current contract at its regular meeting on Tuesday.
KTVU reached out to the County's General Services Agency, which handles the bidding process, as well as the Auditor-Controller's office for comment, but has not received a response.
A Corizon spokesman says the company's staff will remain at the jail to care for inmates to ensure "continuity of care."
Corizon has been under public scrutiny for more than a year after 2 Investigates uncovered questionable medical practices surrounding the death of an inmate at Santa Rita Jail.
WATCH THE FULL INVESTIGATION: Bad Medicine Behind Bars (30 minute Special Report)
2 Investigates discovered Corizon has a lengthy track record around the country that includes lost contracts in half a dozen states, investigations, and hundreds of civil rights lawsuits. One of those lawsuits cost Alameda County and Corizon a $8.3 million dollar settlement, for the death of inmate Martin Harrison at Santa Rita in 2010. Attorneys for Harrison's family say that settlement was the biggest of its kind in California history.
Further investigation by 2 Investigates also uncovered more than $100,000 in campaign contributions from Corizon to Sheriff Greg Ahern. The Sheriff's Department oversees the jail system and its private contractors and has repeatedly recommended contract renewals for Corizon without public bids, over the past decade.
But this wasn't the first time Corizon's contract management and relationship with the county faced criticism.
In 2012, a Grand Jury examined five of Alameda County's largest contracts, including Corizon's, and issued a report that found "a systemic problem exists within the county involving a lack of contract oversight and evaluation."
READ: Complete Alameda County Grand Jury Report 2011-2012
The report criticized the fact that Corizon's contract was not publicly re-bid for several years and that there was no performance evaluation of the company before the contract extension was approved by the Board of Supervisors.
"The Grand Jury is concerned that once vendors are chosen, weak oversight and the lack of formal evaluations of contracts put taxpayer dollars at risk," the report's authors wrote.
Among its final recommendations, the Grand Jury suggested that the county require "evidence-based evaluations" of vendors like Corizon before "large dollar" contracts are renewed.
Yet, just one month after the Grand Jury report was submitted, the Sheriff recommended that Corizon's contract be extended by three years without a competitive bid, and the Board of Supervisors unanimously approved the proposal and granted Corizon an exemption. 
Read Corizon's Full Statement issued July 27, 2016:
Oakland, CA – Corizon Health spokeswoman Martha Harbin issued the following statement Wednesday in response to press inquiries regarding a decision issued by Alameda County Auditor-Controller Steve Manning to restart the bidding process for selecting the County's correctional health care service provider:
"In appealing this flawed process, we were simply asking County officials to take their time and get it right. By ruling in our favor, they are showing their commitment to do just that.

We share the County's commitment to ensure there is – above all else – integrity in this important process. We're treating some of Alameda County's most vulnerable people – this simply is too important not to get right.

We care deeply about this community, believe we're best suited to continue this hard work, and are committed to maintaining the continuity of care on which our patients depend."