49ers fans emotional after roller coaster season
SAN FRANCISCO - The 49ers' emotional season has drawn to a close, an emotional roller coaster of a season, and even with Saturday's loss fans are already looking forward to next year.
Niner Nation turned out for the team's official San Francisco watch party in the city's East Cut neighborhood. Organizers said they wanted to help recreate some of that game day feel even with the game being played 3000 miles away in Philadelphia. 
"Definitely the 49ers fanbase is the best fanbase in the world," said Anthony Schlander from Anthony Presents.
The fans were ready to root for the red and gold, even when the team got off to a rough start with an injured Brock Purdy.
 "Really tough start," said fan King Malik. "This is what we expected. This is what's going to make us rise to the occasion…"
Among the sea of red and gold, there were a few Philly fans rooting for the Eagles. 
"Obviously I want the Eagles to win, but I wanted a healthy match-up," said Eagles fan Michael Byers.  "I'm not happy that Brock Purdy went down. You know, just as a football fan you want everyone to be healthy and have a good competitive matchup."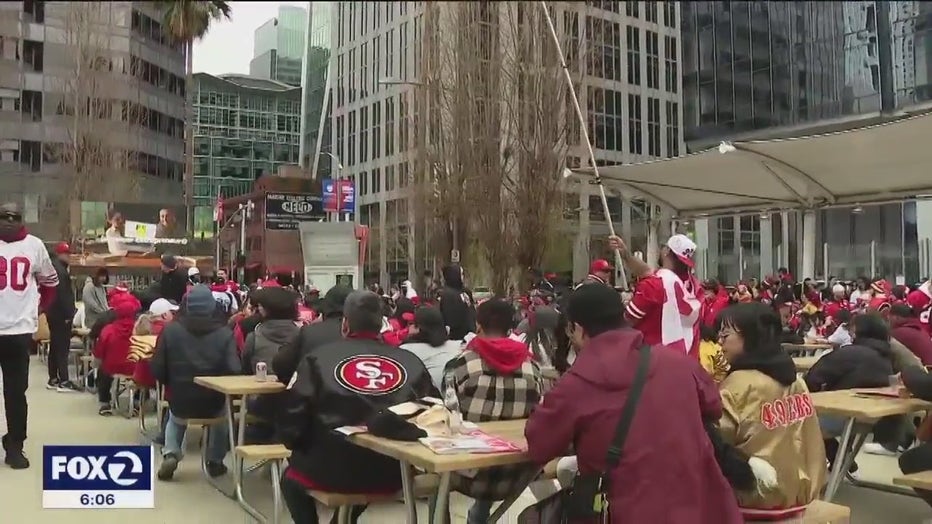 As the game progressed 49er fans struggled to maintain their sense of optimism, hoping this emotional roller coaster of a season could deliver one more surprise. 
RELATED: Hurts, Eagles soar into Super Bowl, rout 49ers for NFC title
"I was really hopeful for Brock Purdy, said fan Nicole Nguyen. "I literally am on the verge of tears because this was us. This was supposed to be us this year. It was supposed to be us."
In the end, the team could not prevail through the injuries and a flurry of penalties. Now with this season in the history books, fans are looking to the future. 
"Niners got a great team," said fan Kunal Sikand. "Everyone's stacked all the way through. With Deebo and Aiyuk and Kittle and Juszczyk and McCaffrey…we got Purdy on a rookie contract and Lance on a contract. We're set. We're set."
Fans say next season the 49er faithful will have the team back. 
SEE ALSO: AFC Championship: Kansas City Chiefs defeat Cincinnati Bengals with field goal
"But you know what? We're coming through next season," said fan Jen Balunsat.
 "Go Niners! I love you guys. You did very well this season. I'm about to be a season ticket holder next year, so you know it! I'm in there! We're in there, I love these boys!"
With all the injuries that have plagued the team this season, the 49ers will be taking a well-deserved break, getting ready and getting healthy for the 2023-24 season.
Remember in just two weeks you can watch the Super Bowl right here on KTVU FOX 2.