49ers Nick Bosa wins NFL Defensive Player of the Year award
PHOENIX - The Niners may not be taking home the Super Bowl trophy this year, but they're also not going away empty-handed. San Francisco's 49ers Defensive Player Rusher "Nick" Bosa won the NFL Defensive Player of the Year award at the NFL Honors award show in Phoenix Thursday night.
This comes with Bosa leading in the league with the most sacks at 18.5. Bosa also had 58 quarterback pressures for the Niners.
Upon excepting the award, Bosa thanked his team and hugged his family, including his brother Joey Bosa, who plays for the Los Angeles Chargers.
SUGGESTED:
"There'll be times when you question yourself, but if you stay the course, and believe in yourself. Take it one day at a time. There's going to be a light at the end of the tunnel. Thank you," Bosa said during his speech.
Bosa also shared he always dreamt of winning this award; a dream that has finally come true after tearing his ACL two years ago.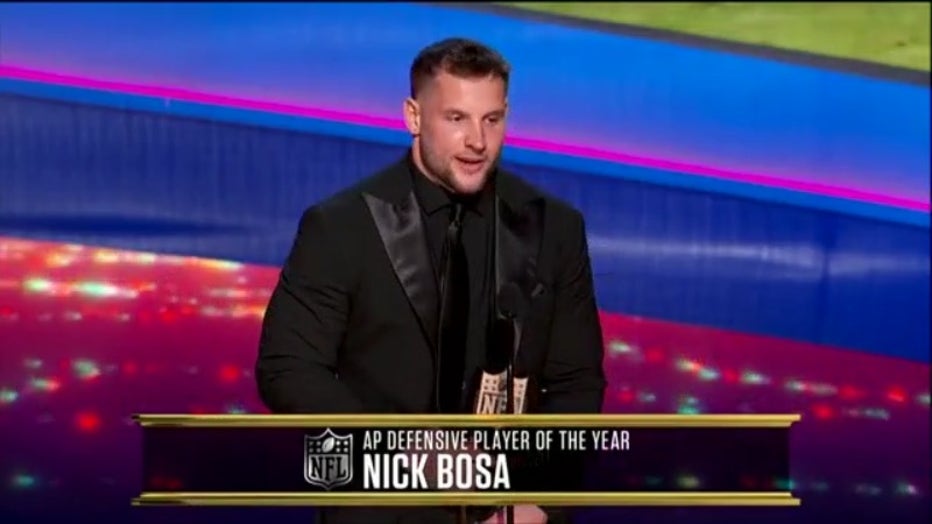 Nick Bosa NFL 49ers Defensive Player of the Year award.
 Bosa is considered to be one of the top defensive players in the NFL currently. He may also receive a contract extension, which would make him the highest-paid defensive player in the league. 
Other awards included the MVP Award going to Kansas City Chiefs' Quarterback Patrick Mahomes for the second time. 
Last year, Linebacker T.J. Watts with the Pittsburgh Steelers won the NFL Defensive Player of the Year, according to The Associated Press.