8 correctional officers now charged with sex abuse at FCI Dublin; 7 found guilty
DUBLIN, Calif. - Two former correctional officers of a federal women's prison in Dublin were charged – and pleaded guilty – Thursday to multiple counts of sexual abuse, bringing the total number of guards now charged of these sex crimes to eight – the most from any prison in the United States. Seven of those officers have either been found, or pleaded, guilty. 
Andrew Jones, 35, of Pleasanton a former cook supervisor at Federal Correctional Institution in Dublin, pleaded guilty to six felony charges of sexual abuse of three women he supervised. He also pleaded guilty to one count of making a false statement to the government. 
According to his plea agreement, he had sex with a woman identified as CV in the food service warehouse and also had her perform oral sex from her inside the staff bathroom. In another, he had oral sex with a woman identified as JL, again in a warehouse near the kitchen. And in the third case, he had sex with a woman identified as RC in a storage room in his kitchen office.
Jones' crimes occurred between July 2020 and June 2021. He then lied to federal agents in March 2022, denying that any sex had happened, court documents indicate. 
Nakie Nunley, 48, of Fairfield, who helped oversee UNICOR, the prison's call center, pleaded guilty to 10 counts of sexual abuse and abusive sexual contact of five women. He pleaded guilty to making false statements to the government.
In one of the caess, Nunley admitted leaving a woman identified as YY sex notes on her desk at the call center and then took her into the bathroom to have oral sex. He admitted to rubbing the back of a woman identified as CW and then telling her that he could make her life "easier or harder" as he masturbated in front of her, according to his plea agreement. 
The two men will enter pleas and be sentenced at later dates.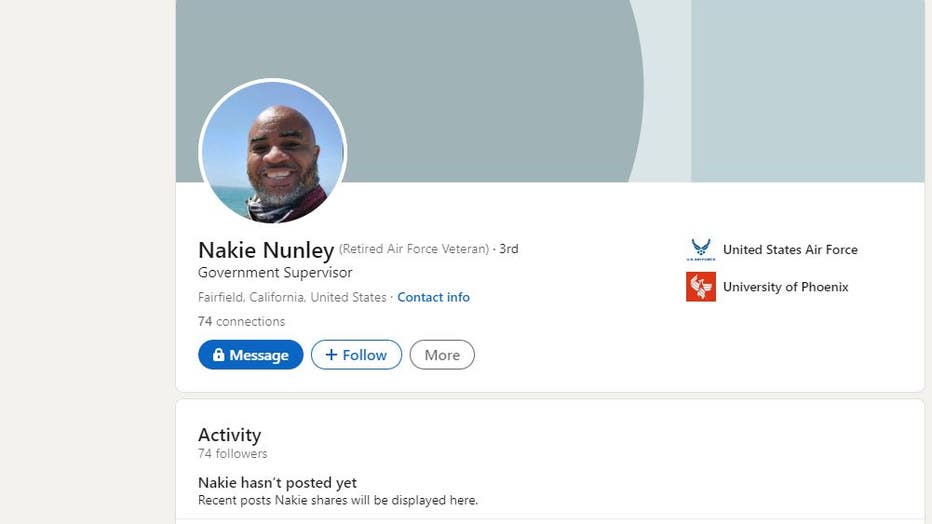 Nakie Nunley, former FCI Dublin correctional officer

They are at the seventh and eighth former employees convicted of sexually abusing women at FCI Dublin. Of the eight, the former warden, Ray J. Garcia, the prison's former warden, is the highest profile officer convicted of sex abuses at the prison. He was sentenced to nearly six years in prison.  
"It's about time," Tess Korth, a former unit manager at FCI Dublin told KTVU in an interview. Korth was essentially shoved out of her job after she began reporting abuses at the prison. She had long known about officers' actions and she said she told higher ups repeatedly about officers' sexual behavior to no avail. 
Speaking specifically about Jones, Korth said: "He got there and he just started screwing inmates." 
She added that it was well known that the kitchen was a "hotbed" of illegal sexual activity. 
Korth said that in her opinion, Nunley's behavior was always "flirty" and his department "got to do whatever it wanted." 
All sexual activity between a prison worker and an inmate is illegal as inmates cannot give consent. Correctional employees enjoy substantial power over inmates, controlling every aspect of their lives.
Kara Janssen, an attorney at Rosen Bien Galvan & Gruntfield who is representing many of the women sexually abused at FCI Dublin, said she was glad the officers were charged.
"But," she added. "There are still so many officers to go. We continue to receive complaints. And BOP (Bureau of Prisons) has been apparently unable to address the ongoing issues even in the wake of all these ongoing indictments." 
The only officer of the eight charged who has not been found guilty is Darrell "Dirty Dick" Smith. His next court hearing is scheduled for Aug. 3. 
EDITOR'S NOTE: An earlier version of this story incorrectly reported that all eight officers have been found guilty. 
Lisa Fernandez is a reporter for KTVU. Email Lisa at lisa.fernandez@fox.com or call her at 510-874-0139. Or follow her on Twitter @ljfernandez.