Anger erupts at Oakland police neighborhood meeting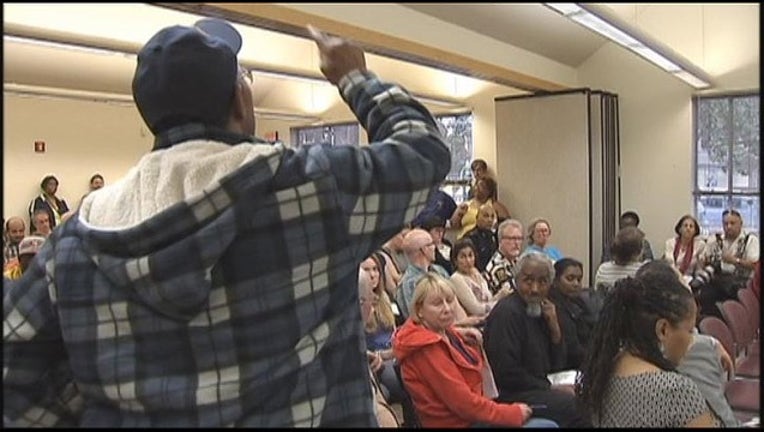 Then the meeting began, and it was anything but silent.
"Every time we call the police, they don't show up until they decide to show up," exclaimed longtime resident Senniy Sams. "We have been fighting this for fifteen years, the same thing, the same people, the same corner!"
He was venting his frustration to Oakland Police Chief Sean Whent, who listened patiently, presiding over a crowd of about 80 people.
Monthly meetings of West Oakland Neighbors review crime trends and tactics, but this one was different, only 10 days after the gunfire that took Pierce's life.
Residents say stray bullets are a fact of life for them.
"I have two bullet holes in my house. Our neighbors two bullet holes in their living room," resident Doug Taylor declared. "It's only dumb luck that it wasn't me or one of my neighbors killed instead of her. "
On an easel facing the audience, a large photograph of a smiling Pierce.
"She wasn't doing anything, she was in the street protecting her kids," added Taylor.
"We're frustrated, just beyond frustrated."
911 calls were made the afternoon of March 9, alerting police that the arguing at a particular house was heated, and that someone was going to get hurt.
The house, at Chestnut Street and 30th Street, had gunfire reported a few days before.
It has also been the target of raids, arrests, weapons seizures and eviction.
But on the day the argument was reported, amid the onslaught of calls to Oakland police -- a verbal conflict wasn't top priority.
"Do the dispatchers have access to the hot spots?" wondered one resident aloud.
"Nobody's coordinated and so nobody knows what's going on," complained another.
"Why can't we shut these people down?" demanded Doug Taylor, expressing the sentiment throughout the room.
Police responded that they are shutting down drug houses as fast as they can, but the process is complicated.
"I'll be the first to admit, we're not always perfect," said Whent, promising to look at ways to make dispatch more responsive and provide more continuity among beat officers.
But Whent acknowledged his department is chronically understaffed, losing more officers each year than it is gaining.
And midway through the meeting, a half dozen officers charged out, rushing to another gun battle, another shooting.
Within the audience, there was also friction, about "why" people turn to dope dealing and violence.
"I recognize that they're human," said one young woman, who advocated talking to the youth about the underlying problems of poverty and unemployment.
But Sams was having none of that.
"I raised my kids on that street, they went to college and they have jobs," he said to applause. "You have a choice!"
Oakland City Council President Lynette McElhaney reminded the emotional crowd why they were there.
"We are all sensing that this could be me or this could be my child, " she said, referring to Pierce. "We might not have been able to prevent this but are we going to work together to make sure Chyemil Pierce is the last person killed in crossfire? "