APEC protesters cause downtown SF disruptions
SAN FRANCISCO - Protests over the APEC summit continued on Wednesday with a group of demonstrators linking arms and blocking traffic on a downtown San Francisco street in the morning. Activists continued to take to the street throughout the day to draw attention to a variety of global causes.
Rivals groups also headed to Woodside, south of the city, where President Joe Biden and China's leader Xi Jinping held face-to-face talks at the historic Filoli estate. 
In San Francisco, traffic was blocked near the intersection of Mission and 5th streets starting around 7:30 a.m. The protest also impeded APEC delegates as they tried to enter the secure zone that had been set up near the Moscone Center where much of the conference was taking place. 
Police were seen escorting some conference attendees through the booing crowds. There were no reports of any protesters being arrested, but police in riot gear gathered nearby.
The demonstration was organized by the No to APEC Coalition, which included groups interested in climate justice, civil rights and support for Palestine, among other causes.
Dozens of protesters from the Falun Gong religious movement also lined Market Street throughout the day to denounce repression in China.
There was a large group that congregated near Union Square and marched downtown, calling for freedom in Tibet. There were some scuffles between protesters and police. 
Several protesters gather at Market and 3rd streets in downtown San Francisco. Some carrying signs that say "Stop the persecution of Falun Gong in China." Others held a sign that reads, "Rise up Against Xi." Nov. 15, 2023. 
Nearby in downtown San Francisco, officers responded to a report of a person with a suspicious device at a commercial building. The building was evacuated. When officers arrived at the scene they detained a person matching the suspect's description. They found that the person was in possession of a "potential firework."
MORE: Biden's APEC arrival met with protesters demanding Gaza ceasefire
"There was no threat to people in this incident. The possession of unlicensed fireworks is illegal in San Francisco," the police department said. 
A pro-Palestinian march was also expected to take place Wednesday evening. 
In Woodside, there were groups displaying signs that criticized Xi and China's Communist party as well as busloads of supporters. These opposing groups were not able to get close to the Filoli estate, because of road closures.
One of our reporters at the Exploratorium, where guests were arriving for an APEC welcome dinner, said several Gaza ceasefire protesters were arrested for blocking the way.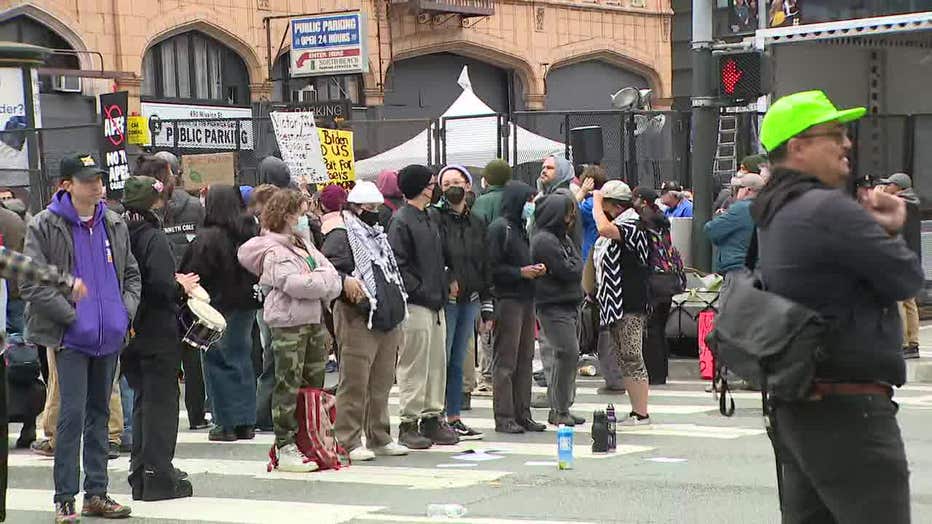 Protesters blocked traffic in downtown San Francisco and impeded APEC delegates from reaching the conference area on November 15, 2023. (KTVU FOX 2)