Apple releases new Macbook Pros with 8-core processor and updated keyboard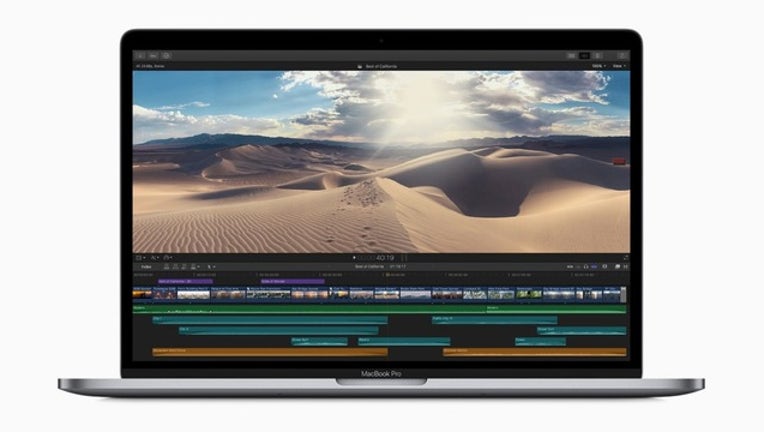 San Jose, Calif. (KTVU) - Apple announced an update to its Macbook Pro range on Tuesday, which brings eight CPU cores to the laptop line for the first time. 
The 15-inch Macbook Pro, which starts at $2399 comes with a 2.6GHz, 6-core i7 processor. Intel's 9th Gen 8-core processors are available at a pricier $2799 starting price. The 15-inch laptops can be custom fitted with an 8-core i9 chip with a 2.4GHz base speed, which can be turbo boosted to 5.0GHz. Turbo boost technology is a feature available on Intel processors that accelerates processor speed above its rated operational frequency. 
The 13-inch laptops range from $1299 to $1999 - the base model has a 2.3GHz dual-core Intel Core i5 CPU that can be turbo boosted up to 3.6GHz, and 8 GB of RAM. The 13-inch range can be custom fitted with a 2.5GHz dual-core Intel Core i7 processor that offers turbo boost speeds of up to 4.0GHz. Storage options range from 128GB for the base model, while custom configurations can bump it up to 2TB. 
The new laptops also reportedly fix a long standing issue with its butterfly keyboard, which was prone to malfunction due to dust and debris getting wedged underneath the keys. Many journalists have ranted about this issue, which Apple insists only affects a small percentage of Macbook users. 
A new material is being used on its keyboard that reduces incidents of double and missed keypresses. Apple is also extending its keyboard repair program to support all MacBooks with the butterfly keyboard.