Arrests made in Vallejo 'Red Bull Thief' case, suspects accused of targeting store more than 20 times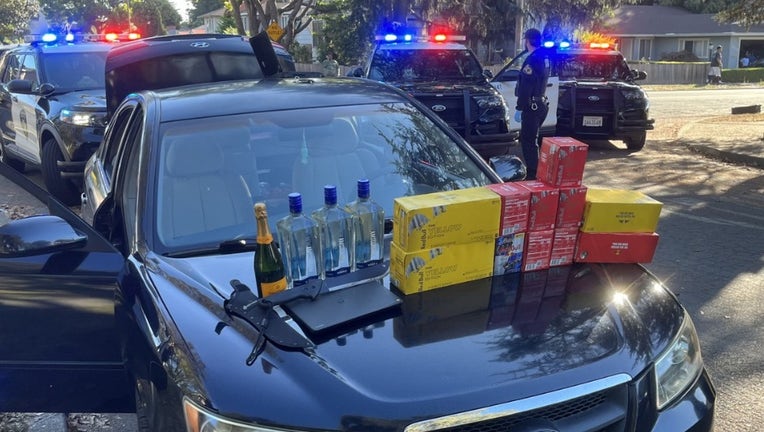 article
VALLEJO, Calif. - Vallejo police have arrested suspects they dubbed the "Red Bull Thief," accused of targeting a store more than 20 times to make off with thousands of dollars in Red Bulls and vodka.
Investigators said on Oct. 15, they received a call from a business in the 900 block of Admiral Callaghan Lane, about thieves that had repeatedly stolen from the store, getting away with more than $14,600 worth of merchandise.
SEE ALSO: Video: Dozens loot Sacramento-area 7-Eleven store after sideshow
"The suspect had a penchant for stealing multiple cases of Red Bull and bottles of New Amsterdam vodka," police said. 
Investigators used surveillance footage along with descriptions of the get-away car and good old-fashioned detective work to identify the suspects' vehicle.   
"A records check on the suspect's vehicle revealed that the license plates had been switched. Despite the vehicle being a Hyundai, the license plates were registered to a Toyota," police said.
They were led to a car about a mile away from the store, near Florida and Yuba streets, where officers initiated a felony traffic stop. 
Police said a man and a woman were detained on site. Then investigators transported a store employee to the scene, where the worker identified the pair as suspects in the thefts, according to investigators.  
SEE ALSO: Vallejo police now under state oversight to complete reforms
"Subsequently, our officers searched the suspect vehicle and successfully located the stolen Red Bull cases and vodka bottles," police said, adding, "All of the stolen merchandise was returned to the business."
Investigators said the suspected get-away driver later admitted that she intentionally placed the wrong license plates on her vehicle. They also said the other suspect had a criminal history, with a $25,000 warrant out of Solano County for possessing a stolen vehicle and a $10,000 warrant out of Napa County for theft.
The two were booked into the Solano County Jail on multiple felony charges, police said.