Bay Area braces for May Day disruptions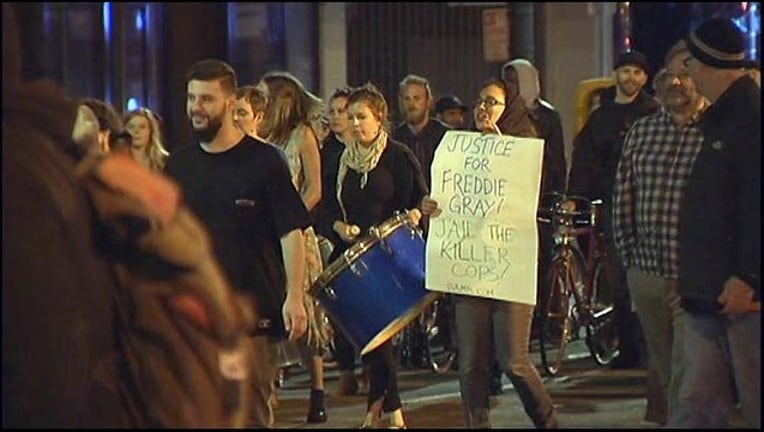 OAKLAND, Calif. (KTVU and wires) – Longshoremen plan to shut down the busy Port of Oakland while protesters were promising to disrupt the morning commute on the massive Bay Area Rapid Transit system on Friday to mark a day of protests on May Day.
Oakland will be a focal point of the protests with the port shutdown occurring at one end of the city and the demonstration and disruption of BART and the daily commute tech buses taking place at the MacArthur BART station across town.
"Oakland is seeing an unprecedented wave of gentrification creeping in from every direction," organizers for the BART protest declared in a press release. "The rich have begun colonizing North Oakland, West Oakland, and Downtown. Their tech buses, their pricey cafes, and their luxury apartments have begun to appear with alarming frequency."
Meanwhile, the longshoremen's union says its shutdown of the busy port is to call "national attention in order to stop police terror." After rallying at the gates of the port, the union workers will march to Oscar Grant Plaza to continue their protest.
An afternoon rally is also planned for San Francisco to protest a litany of causes including a halt to the deportation of illegal immigrants, reform of the state's criminal justice system and justice for victims of police shootings.
Organizers said the rally will begin at 1 p.m. at the San Francisco Civic Center.
May Day rallies were originally meant as a way to honor international labor movements, but have evolved into worldwide human rights protest.
"All of our struggles intersect, whether its facing bullets from other police or whether its facing security. I mean those state forces are working hand in hand in collaboration," said May Day organizer Sharif Zakout.
But lately some of those collaborations have taken a negative turn. Several businesses reported damage following two small marches this week in Oakland.
People here say they were standing in solidarity with those in Baltimore after Freddie Gray died of an unexplained spinal cord injury while in police custody.
"We understand their frustration and were hoping that this Mayday event will be a peaceful one," said May Day organizer Jesus Iniguez.
Business owners in downtown Oakland are also hopeful things end up peaceful Friday. However, many were not taking any chances; some places have protective gates surrounding their establishments, while others will board up their buildings.
The manager of one bar says people broke their window earlier this week, and they decided to leave them up just in case. Some owners declined to go on camera because of fear of retaliation, but others said it will be business as usual. However, most said they're willing to shut down early if things get out of hand.
"Anger magnifies in different ways and those are those people, but we are organizing something positive," said Zakout.
City officials say things will remain the same, although there will be an increase in officers on the streets. Still, other businesses in the area say they're doing all they can to make sure things go well Friday night.
"We have staff that ensures that and their well trained and we all look out for each other. So knock on wood nothing but positive vibes and good experiences down here," said Oakland business owner Glenn Kaplan.